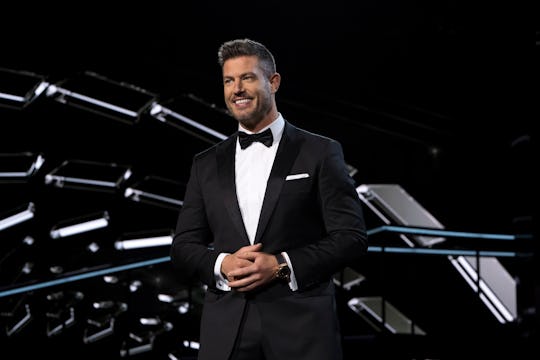 Byron Cohen/ABC
'The Proposal' Host Jesse Palmers Used To Play Pro Football
It looks like ABC is determined to help people find love on TV, because they're debuting a new dating show called The Proposal on June 18. Host Jesse Palmer will be guiding the contestants and the audience through the process, trading in his football uniform for a tuxedo. But are athletics totally a thing of the past for him? Does Jesse Palmer still play football?
For those curious about what to expect, The Proposal is sort of like the mutant child of The Dating Game and The Bachelor: one man is shrouded behind a glittering edifice like The Wizard of Oz while ten women compete to get engaged to him despite the fact that he is a total stranger. Jesse Palmer is there to move things along and keep them running smoothly; it's a far cry from barreling down the field and making a touchdown (that's what happens in football, right?) but his time on The Bachelor means he's got insider knowledge on how it feels to pledge your troth to someone you don't know at all. (Even though he chose not to get engaged to finalist Jessica Bowlin when he was the one searching for love.)
It seems like Jesse is dedicated to his new job, because football is currently taking a backseat to his hosting duties. Though working as a sports commentator is still part of his career, playing football is no longer a priority.
Born and raised in Ontario, Jesse received an athletic scholarship to the University of Florida and played college football for the duration of his time there. Once he graduated, he moved up to the NFL and played as a backup quarterback for the New York Giants from 2001 to 2004. After being cut in 2005, he went back home and joined the Canadian Football League. He was drafted by the Montreal Alouettes, but according to the Globe and Mail he also considered the Ottawa Renegades since Ottawa was his home town. But he never actually played for the CFL.
Jesse attempted a return to the NFL as well. The East Bay Times reported that he was signed by the San Francisco 49ers in 2005, though he didn't stay with the team for long. Ultimately, Jesse retired from professional football in 2007. Perhaps his 2004 stint on The Bachelor inspired a love for the camera, because he decided to pursue a career in sports broadcasting instead.
As a commentator, Jesse has appeared on Fox, the NFL Network, and ESPN. In 2015, The Hollywood Reporter announced that he was going to become a special contributor on Good Morning America. In a memo, ABC News president James Goldston praised Jesse, saying his "passion and versatility have been invaluable. He has an infectious enthusiasm for news, an innate ability to tell stories in a unique way, and an insider's perspective on the big sports headlines of the day."
In 2017, Sporting News reported that a bidding war for Jesse between Fox and ESPN ended with Jesse deciding to stick with ESPN as a football analyst. But he's explored different kinds of television work as well. Jesse hosted Food Truck Face Off on the Food Network and co-hosted Live with Kelly. He's popped up on The View and The Chew. Jesse also became the host of DailyMailTV, which he called "an opportunity I couldn't refuse."
It seems like Jesse has left professional football behind in favor of hosting any program that will have him: whether it's sports, news, food trucks, or bizarre televised dating rituals, he's open to being the one who ushers the viewers through the whole experience.