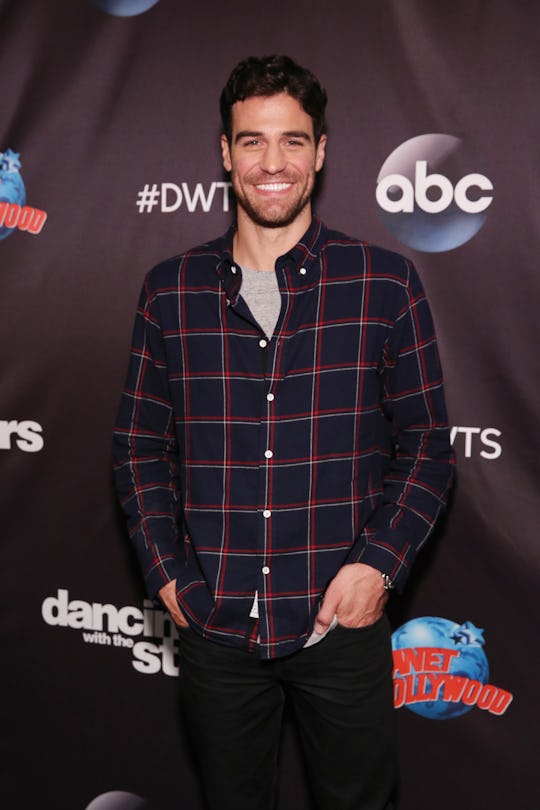 Robin Marchant/Getty Images Entertainment/Getty Images
This 'Bachelor' Nation Alum Has Already Won 'DWTS' Viewers' Hearts
Not long ago, Bachelor In Paradise breakout star, "Grocery Store Joe" Amabile, stole hearts and took names. It was his short-lived reign on Becca Kufrin's season of the Bachelorette that made Amabile a fan favorite. He reappeared for a second chance at love on Bachelor in Paradise. That could've been the end of the beloved grocer but Dancing With The Stars #blessed viewers when Amabile's name was added to this season's celeb roster. So, does Joe the Grocer have dance experience? More importantly, with his produce-forward intro on Paradise, does it even matter?
The night of September 11 is forever marked in history as the night Bachelor Nation host, Chris Harrison, announced that Amabile would be part of the 27th DWTS cast, which caught the inexperienced dancer — and everyone raving at home — by complete surprise. At least the lovable, kind-eyed Chicago native is having fun. He told Us Weekly he's doing "his best" with partner, Jenna Johnson, which is all we could ever ask for. I don't care what's going on behind the scenes; you're doing great, Joe, sweetie. You get all the votes forevermore.
According to People, Harrison said that, although he thinks [Amabile] will go far, "it's a little bit like the Emmys, it's a popularity contest. He is lovable, likable, he's going to give it his all." He concludes by adding the performances will be "hilariously terrible," but in a good way. I ask again, does it even matter?
If you ask Amabile what he thinks of his skills, you'll get a glimpse of why he's a Bachelor Nation fav (Hint: he's super modest and adorably so). He told Us Weekly when it comes to dancing, he's a "solid nine-and-a-half" before scaling down to a "four." When DWTS [dancing partner], Johnson, gives him a boost, he finally settles on a "seven."
When the news was first announced, Amabile's reaction was a mix of excitement and apprehension. After the Paradise finale, he told ET he doesn't know how to dance, adding, "I'm actually having a panic attack right now, if you can't tell." The 32-year-old went on to say he "didn't even dance in 8th grade" and he'd have to "do some research" and "yoga" which perfectly sums him up, FYI.
In case you've been avoiding all things Bachelor, it might seem like Amabile is suddenly omnipresent so here's your recap. Although things didn't work out on Kufrin's season of the Bachelorette — when Amabile was sent home on the first night after fumbling on his words — he got his second chance at love on Bachelor in Paradise with fellow contestant, Kendall Long (from Arie Luyendyk's infamous season in which Kufrin "won"). And while it looked as though things might finally go Amabile's way, he and Long parted ways at the end of the show. Luckily, the live show afterwards confirmed Long traveled to Chicago after the initial split to make things right. The two have been together ever since.
The rest, as they say, is history. In the time between, Bachelor Nation pushed for Amabile to be the next Bachelor, though the title went to former NFL player, 26-year-old, Colton Underwood. It's a moot point though because the grocer never thought he'd make a good Bachelor anyway. He said on the Ellen Degeneres Show, "if I'm single at the end of this show, I would definitely be the Bachelor. Would I be a good one? Probably not… because I'd probably be a nervous wreck the entire time. It would actually be really bad." Basically, all hail Kendall and Joe so we don't have to watch him go through that (again).
The verdict is out on whether Grocery Store Joe will dance his way to the mirror ball. But I have to say it once more: does it even matter? He's already danced his way into America's hearts and that's enough for me.