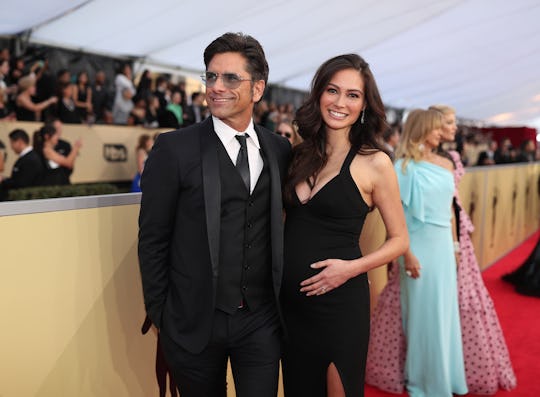 Christopher Polk/Getty Images Entertainment/Getty Images
Turns Out, New Parents John Stamos & Caitlin McHugh Want A *Full House* Of Kids
Ah, nostalgia. There's really nothing better than looking back at your fondest childhood memories sometimes, is there? And when some of your favorite stars of the 90s start families of their own, well... it's just an exciting time to be alive, right? In case you missed it, Full House alum John Stamos recently became a first-time dad and it looks like he's absolutely loving every moment of fatherhood so far, which has just been such a treat to witness for fans. So, given how much he's been oozing happiness lately, it's fair to wonder if John Stamos wants more kids down the line or if he and his wife, Caitlin McHugh, are content as a family of three.
Well, I've got some good news for you. According to his better half, it sounds like they want a full house. Pun very much intended. It's no secret that Stamos has spent much of his life being unattached. Almost like his Full House character, Uncle Jesse, Stamos didn't become a father until he found the right person, even if it took him a little longer than his peers. It was in February 2018 that Stamos married his now wife at a small ceremony in Studio City, California, after the two shared a magical engagement trip to Walt Disney World in October 2017, according to People.
Now the two have expanded on their sweet love story, welcoming their son, Billy Stamos, into the world this past April. At the time, Stamos shared his joy in an adorable Instagram post, writing, "From now on, the best part of me will always be my wife and my son. Welcome Billy Stamos (named after my father)," along with the hashtag, "#NotJustanUncleAnymore."
So now that the two have settled into parenthood and raising their baby boy, McHugh recently shared that the happy couple definitely wants more kids — "ASAP," as she told Entertainment Tonight in a recent interview. Yes, the new mom seems to be more than ready to welcome another baby into the mix. The 32-year-old model told Entertainment Tonight that she and Stamos definitely want more children in the future, saying:
Right now, Billy is extremely spoiled and we need to share the love, he's gotta share some of those toys and all the things that have been given to him. He needs [siblings] to keep him grounded. If he's the only one, he'll get way too much love because there hasn't been a child on either side of our family in quite some time.
And that love is obvious; the new parents are seriously smitten with their little man, as you can see from their frequent photos with him. While they seem totally content with their bundle of joy, giving Billy a sibling is definitely on their minds. "I would love to give him a little girl, but we're happy with boy, girl, just healthy," McHugh said to Entertainment Tonight.
Considering how well matched McHugh and Stamos are for each other, another baby (or two or three) could be in their future. After all, before McHugh even gave birth, Stamos was seriously excited about becoming a father. Mere days before his son was born in April, he told Entertainment Tonight:
I've waited my whole life for this. I just can't. I'm already so emotional and so excited... I've been dreaming about our baby. I mean, I am really excited.
Whether Stamos and McHugh decide to have more kids at some point in the future, it's clear that parenthood suits both of them very well — and baby Billy is one lucky kid.