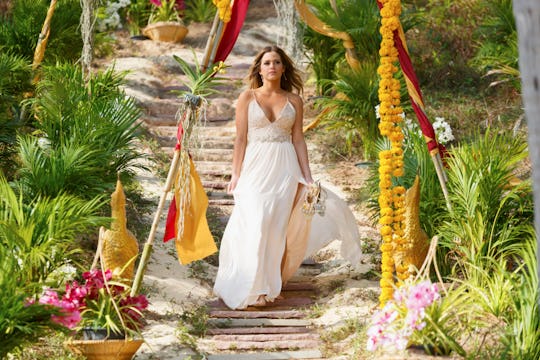 Matt Klitscher/ABC
Does JoJo Dump Jordan On 'The Bachelorette'? There's A Chance He Could Leave Alone
JoJo is about to make her decision on The Bachelorette but it's one that can feel fairly easy to predict. JoJo has been crazy into Jordan since day one, and those feelings never really wavered. He was the first guy she kissed on the show and he earned the first impression rose; their connection has been pretty solid ever since, no matter what doubts JoJo professes to have. However, Jordan's motives have been questioned since the beginning, especially off the show. He's been accused of being a cheater and of being fame thirsty, just using his time on the show to get his name out there instead of actually looking for love (so...like most people on reality TV then?). Promos for the finale show an emotional, overwrought JoJo, which has led some to wonder: does JoJo dump Jordan?
Though Jordan may seem like a lock for the win, The Bachelorette finale might just provide a surprise twist. To figure out the probability of that, you and I must enter the the shadowy world of gossip, spoilers, and "a source close to," so be warned and keep your wits about you; not everything here is a hard fact. But that's never stopped anyone from speculating, so let's speculate away!
According to spoilers for the finale, meeting JoJo's parents only goes well for one of the guys. Although one is a perfect gentleman, the other comes off as "too smooth" for JoJo's mom's liking and also fails to officially ask for JoJo's hand, perhaps because he has forgotten they are living in the Regency Era. Out of Jordan and Robby, Jordan definitely seems like the one who would be deemed "too smooth," and with how engagement-and-family-centric JoJo has been, it won't go over well if he fails to impress her parents. It also lines up with a line in the promo. JoJo tells one of the guys (who is not visible) that she had wanted it to be him but appears to be breaking up with him anyway.
However, there's another theory in the works, too. This one involves JoJo following through on giving Jordan the final rose and getting engaged to him, but then breaking up around the time of the After the Rose ceremony (either right before or right after). The mostly reliable Reality Steve tweeted that he heard JoJo dumped Jordan, though he "couldn't get into details."
After seeing JoJo get her heart broken by Ben on The Bachelor, it would be really disappointing if her own season ended in another heartbreak, but that's probably better than getting herself involved in a relationship that doesn't feel right.