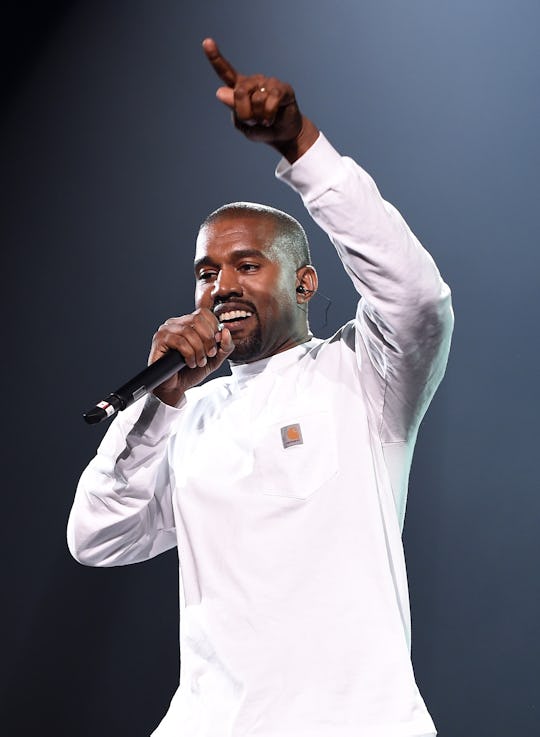 Dimitrios Kambouris/Getty Images Entertainment/Getty Images
Does Kanye West Actually Support Trump? He Said He "Would Have" Had He Voted
Kanye West fans were subject to the artist's philosophical musings at a concert in San Jose, California, on Thursday night. The subject of his most recent rant was, perhaps as to be expected, the presidential election and who has earned his respect. So does Kanye West actually support Trump? He told concertgoers: "I told you all I didn't vote right? ... But if I were to have voted, I would have voted for Trump." This endorsement was reportedly met with a chorus of boos (the parallels to Obama's "don't boo — vote" are deeply felt here) as fans even "threw shoes, t-shirts and baseball caps" at him.
The Mercury News, a San Jose paper, explained that West apparently would have preferred to share his political preferences publicly but was advised not to: "I wanted to say that before the election, but they told me: 'Whatever you do, don't say that aloud,'" he told crowds. Without focusing on support of Trump's policies, it seems that West was more enamored with the president-elect's non-traditional approach. "There were a lot of things I actually liked about Trump's campaign," West was sure to clarify. "[Trump's] approach was (expletive) genius — because it worked."
West then called for Americans to switch their ideologies. "Specifically to black people, stop focusing on racism," he commanded. "This world is racist, OK? Let's stop being distracted…it's just a f*cking fact, we are in a racist country, period." West clarified that he was still a supporter of the Black Lives Matter movement and women's rights, however, despite preferring the GOP's candidate to the Democrats' Hillary Clinton.
At the end of the 15-minute tangent, West was sure to reinstate his intent to run for president in 2020, without pledging affiliation to any particular party. His initial announcement to run was made at this year's VMAs. At the time of the comments, Trump said he hoped that West would, telling Rolling Stone: "He's actually a different kind of person than people think. He's a nice guy. ...I hope to run against him someday." West managed to energize MTV's crowds, saying: "It's about ideas, bro. New ideas. People with ideas. People who believe in truth." Perhaps that's what he finds so admirable about Trump's campaigning style — the newness of it. As for truth, however, Trump's lies often stack against him.
West's support of Trump is unexpected. Kim Kardashian West posted a selfie with Hillary Clinton this past September, with West popping his head in, too. Though she captioned the image: "I got my selfie!!! I really loved hearing her speak & hearing her goals for our country! #HillaryForPresident," her husband didn't explicitly articulate the same support, and now maybe we know why. On the other hand, West's comments could be interpreted as some post-election gloating; it's surely easier to pledge support for a candidate after they've already been elected.