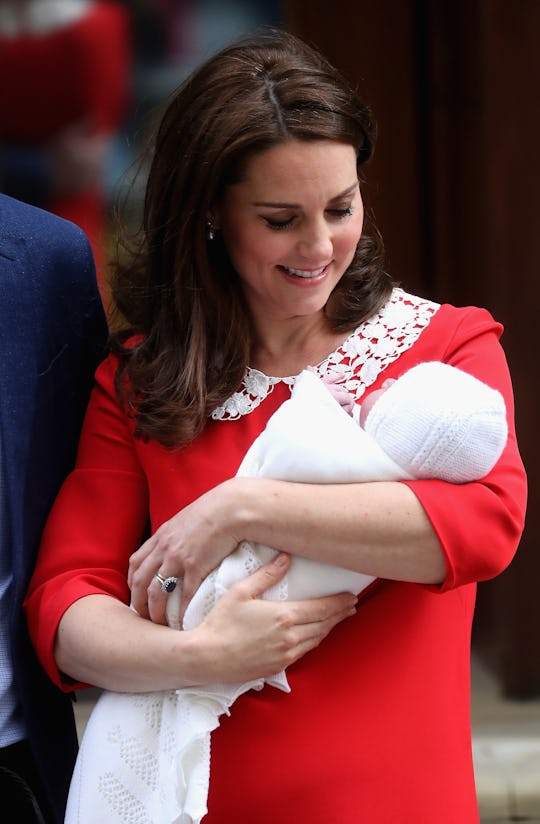 Chris Jackson/Getty Images Entertainment/Getty Images
Here's How Kate Middleton & Other Royals Choose To Feed Their Babies
Fans of the royal family have a beautiful new reason to celebrate. Prince William and Kate Middleton have just welcomed their third child, a beautiful baby boy, and it looks like the couple is beaming with joy. The family is pretty secretive about their personal choices, so the excitement surrounding the new baby comes with a lot of questions. They are full of poise and etiquette in all that they do, but how will the royals handle feeding their new baby? Does Kate Middleton breastfeed, or will she hand off her baby to a nanny for bottle feeding?
Well if the past is any indication, it may seem that Kate Middleton will indeed breastfeed her new baby. With her oldest son, Prince George, The Mirror reported that Middleton was actually breastfeeding and would occasionally be seen wearing nursing friendly dresses when out with her baby. The report also noted that St. James' Palace had not offered an official statement on Kate's plans to nurse and she refused to be photographed while nursing. According to many sources in the royal circle, the reason for this was that she did not want to become a "pin-up for the breastfeeding lobby."
For most people, childbirth and feeding is just a normal part of life, but the British royal family is far from normal. Historically, according to The Guardian, some women in the monarchy cringed at the thought of breastfeeding their children, and would often enlist wet nurses for breastfeeding so they could get back to having more children. They noted however, that the current monarch, Queen Elizabeth II, was breastfed by her mother, and then continued on to nurse her own children, even though her own sister Princess Margaret publicly opposed the idea.
Breastfeeding is a personal choice that each mother needs to make for herself based on her physical and emotional health, but it may also be a decision that requires immense support and inspiration. The Mirror reported that even Kate Middleton struggled with breastfeeding Prince George at first, but with some help from her midwife, she was able to continue successfully. She possibly also gained some inspiration from her legendary mother-in-law, Princess Diana, who nursed both Prince William and Prince Harry.
Kate also seems to be parenting in a similar style to Princess Diana. When Diana's children were born, noted Newsweek, she was expected to constantly hand her kids off to nannies so she could carry on with her official work. However, she defied the norm and turned out to be a very hands-on mom who breastfed, took her children out with her when she could, and was publicly affectionate and playful with them.
In true Diana fashion, Kate Middleton has also put her children first, and has similarly turned out to be a modern, ever-present mom. It seems she may have even channeled Princess Diana's maternity style with the red custom Jenny Peckham maternity dress she wore as she greeted reporters outside the hospital with her new baby. As reported in Good Housekeeping, Diana wore a similar red dress with a contrasting white collar when leaving the hospital after giving birth to Prince Harry.
So while there isn't a definitive answer on whether or not Kate will be breastfeeding baby number three, there is a likelihood she will continue her tradition of breastfeeding as she did with her first two children. I'm sure that the palace will be as secretive about her personal feeding choices as they have been in the past, but as more information and photographs of Kate and the new baby are revealed, there may be more clues to catch on to.
Check out Romper's new video series, Bearing The Motherload, where disagreeing parents from different sides of an issue sit down with a mediator and talk about how to support (and not judge) each other's parenting perspectives. New episodes air Mondays on Facebook.