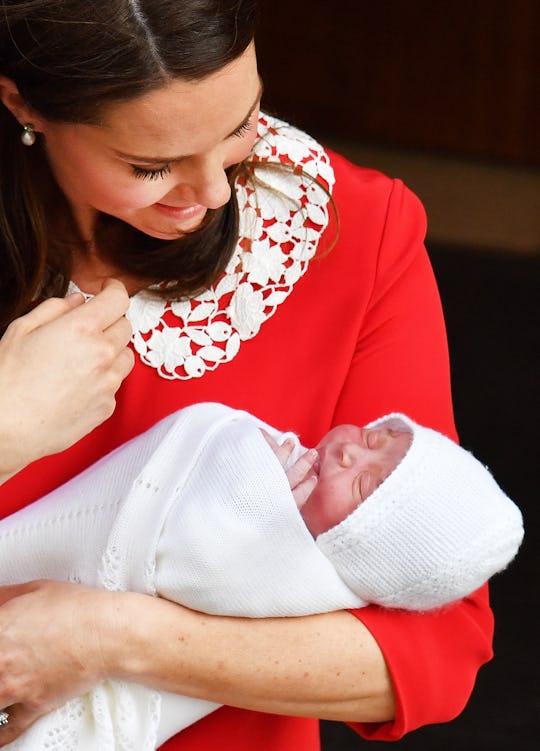 WPA Pool/Getty Images Entertainment/Getty Images
Here's How Kate Middleton Feels About Giving Her Babies Pacifiers
Leave it to the Duchess of Cambridge, Kate Middleton, to leave the hospital looking polished and gorgeous, just hours after giving birth to her third baby. She has proven to be a hands-on mom with her older children, Prince George and Princess Charlotte, and has been known to be a breastfeeding mom. But have you ever wondered if she uses a special royal binky for her babies? Does Kate Middleton use pacifiers, or does she let her royal babies self-soothe?
I can totally imagine a solid gold or diamond encrusted royal binky (or "dummy" as they are referred to in England) sitting in a museum somewhere, but it turns out that even if there was one, Kate Middleton would probably not be using it. After the birth of their first baby, Prince George, The Mirror reported that according to palace sources, both Prince William and Kate instructed Kensington palace staff not to offer the baby a pacifier, in efforts to raise him to be "calm and quiet". They also reported that the couple did not want their baby to rely on the aid of a pacifier to soothe him.
So while there are no clear cut, detailed reports of how the royals will be raising their new baby, if the past is any indication, they will probably be using a similar approach. Newsweek reported that Kate Middleton breastfed her babies, just as Princess Diana and Queen Elizabeth II did, so it's safe to assume she may breastfeed baby number three as well. If so, it could also be another reason why she might avoid using a pacifier now, and it could also be a contributing factor to why she's chosen not to use one in the past.
As reported by The Mirror, like many moms, Kate had some difficulties breastfeeding at first, but with the support of her midwife, she was able to nurse Prince George with more ease. When you are already struggling with breastfeeding, introducing a pacifier into the equation can potentially make things harder. In the early days of breastfeeding, the use of a pacifier can not only produce "nipple confusion" for the baby, it can also hinder the mother's milk supply, explained Breastfeeding Today. So, it's quite possible that Kate keeps considerations like these in mind when deciding on whether or not to offer her baby a binky.
Royal family or not, bringing home a new baby requires establishing new routines, care schedules, and overall family adjustment. Surprisingly, as glitzy and glamorous as their titles are, the Duke and Duchess of Cambridge have preferred to give their children as normal an upbringing as possible, noted E! News, and their lifestyle decisions reflect that. To keep their family grounded, Prince William and Kate prefer to have the help of just one nanny, rather than a staff of caregivers. E! News further noted that the royal kids each get one present from their parents on Christmas, and Princess Charlotte has been seen wearing her brother's hand-me-downs on numerous occasions.
In the past, the royals have been quite private when it comes to their children, so it's not easy to see exactly how they do things, but by looking at Kate's past choices as a mom, you can get a general sense of how she might care for the new baby. For the time being, it's nice to know that Kate and her new royal baby are doing well and seem healthy and happy. It will be even more exciting when the world finally gets to see photographs of the new family of five, along with pictures of Prince George and Princess Charlotte interacting with their new baby brother.
Check out Romper's new video series, Bearing The Motherload, where disagreeing parents from different sides of an issue sit down with a mediator and talk about how to support (and not judge) each other's parenting perspectives. New episodes air Mondays on Facebook.