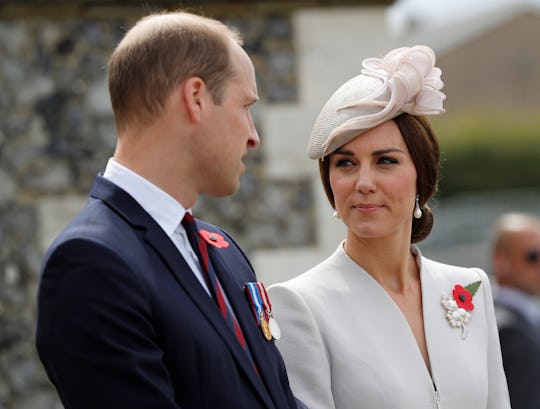 Pool/Getty Images Entertainment/Getty Images
What You Need To Know About Kate Middleton's Pregnancy Condition
Royal family fans were overjoyed at Monday's news that Kate Middleton and Prince William will soon be welcoming their third child. But many of those who breathlessly followed the last two royal baby manias have found themselves wondering, does Kate still have hyperemesis gravidarum, the form of extreme morning sickness that plagued her during her two previous pregnancies? Unfortunately, she does, but by this point it seems likely that she knows how to handle the unpleasant condition like a champ.
In the official press release announcing Middleton's pregnancy, Kensington Palace noted that everyone in the royal family was "delighted" that the Duke and Duchess of Cambridge were expecting their third child. The statement went on to say:
As with her previous two pregnancies, The Duchess is suffering from Hyperemesis Gravidarum. Her Royal Highness will no longer carry out her planned engagement at the Hornsey Road Children's Centre in London today. The Duchess is being cared for at Kensington Palace.
So exactly how serious is hyperemesis gravidarum? Sure, it may sound like the name of some cool Harry Potter spell, but in reality, it's a pretty nasty condition. Regular morning sickness is no fun, of course, but hyperemesis gravidarum takes early pregnancy nausea to a whole other level.
According to the U.K.'s National Health Service, some women with hyperemesis gravidarum report vomiting up to 50 (!!) times a day. Around 1 in 100 women suffer from the condition, which can last much longer than typical morning sickness, making moms-to-be feel under the weather way past the 14 week mark. It can also lead to weight loss, low blood pressure, and dehydration linked to the fact that, well, women suffering from the condition may be vomiting all the fluids they intake right back up again.
Also not so lucky for these women? Having hyperemesis gravidarum once tends to increase the chance of getting it again in a later pregnancy. So all that said, no wonder Middleton isn't quite up to photo opps right now.
The good news is that, according to Time, hyperemesis gravidarum generally doesn't endanger the fetus, as long as women suffering from it don't lose too much weight. (If they do, they could potentially give birth to lower birth weight babies.) Middleton's got the best resources in the world to help her. And she has managed to fight her way through it twice already, ending up with two ridiculously adorable kids who clearly made all that suffering worthwhile.
During Middleton's first pregnancy, she ended up in the hospital due to the condition, like many expectant mothers suffering from hyperemesis gravidarum who need to have their hydration and nutrients supplemented via IV fluids. But by now, it seems, she and her support team know exactly what to expect, and have figured out to keep her as comfortable and healthy as possible in the privacy of Kensington Palace.
Best wishes to Middleton. If anyone can handle hyperemesis gravidarum with flawless grace, she can.