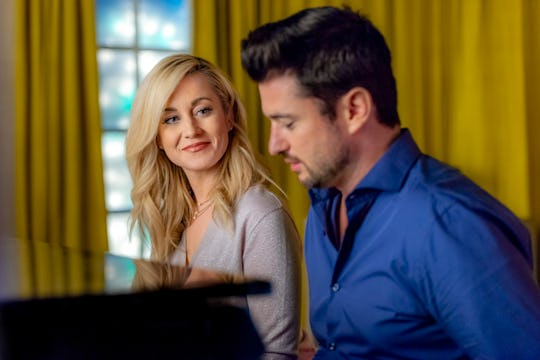 Hallmark
Country Star Kellie Pickler Will Sing In Hallmark's 'Christmas at Graceland'
Tis the season for Christmas movies. That's right — as soon Halloween is in the rearview mirror, Thanksgiving gets lumped right in their with the holiday season. And what says Yuletide cheer more than Christmas movies? Enter the Hallmark Channel, which has a whole host of holiday flicks premiering this season. Among them is Christmas at Graceland, which stars country star Kellie Pickler. But the question is, does Kellie Pickler sing in Christmas at Graceland? Fans of Pickler's music might be in for a treat — because it looks like she is.
With this movie, Pickler diving into her first true acting role. Here's a synopsis of Christmas at Graceland, from the Hallmark Channel:
Laurel, a Chicago-based business executive, travels to Memphis to close a deal to take-over the city's oldest family-owned bank. While she's in town, she bumps into her old flame Clay, a local music promoter with loftier aspirations. Though Laurel tries to stay focused on work, Clay pulls her back to the days when they were a performing duo on the brink of stardom. Laurel finds herself drawn to the City of Blues—and Clay—as she dreams of making music once again.
Sound like a duet is definitely in the works. And from the promotional materials offered up so far, it seems essentially confirmed that Pickler's Laurel will be belting out a tune on screen. Not convinced? Well, this video featuring Pickler singing "I'll Be Home For Christmas" over scenes from the movie seems like pretty concrete proof.
If you're not familiar with Pickler, it's time for a rundown: A North Carolina-native, Pickler first came on the scene during Season 5 of American Idol. She didn't take home the gold, but ended up in sixth place, and her debut album came out shortly thereafter. Pickler has been nominated for CMA and CMT awards, and even toured with Taylor Swift. She's also a triple-threat: She won Season 16 of Dancing With the Stars with her partner, Derek Hough. Currently, she hosts a daytime talk show with media personality Ben Aaron called Pickler & Ben.
Hallmark is no stranger to employing multi-hyphenate actors to lead its yearly Countdown to Christmas. The holiday season started off (before Halloween, which, OK, was a little much) with Christmas at Pemberley Manor starring Jessica Lowndes (90210), who has lent her voice to most of her projects. Last week's It's Christmas, Eve starred LeAnn Rimes, who is obviously best known for being a singer. And Entertainment Christmas, which airs on Dec. 15, stars Jodie Sweetin of Full House fame, who has showed off her impressive pipes on the Netflix spinoff Fuller House for the last couple of years. (And everyone who watched the original knows she's a dancer as well.)
So Pickler's break into acting in this format makes sense. The film takes place in Graceland, after all, so a country star is the perfect choice. It looks like this executive will embrace the holiday spirit and get back to her performer roots just in time for Christmas. Oh, and if you're still not convinced, this press image should send the message home. Kellie Pickler will sing in this film.