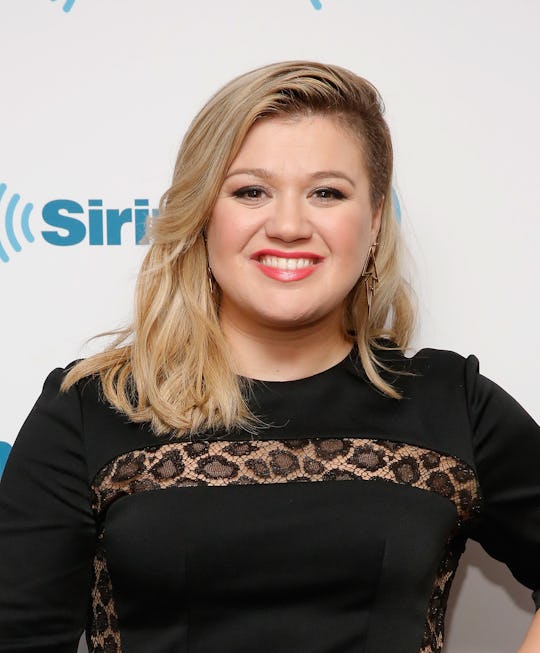 Robin Marchant/Getty Images Entertainment/Getty Images
Does Kelly Clarkson Want More Kids? She's Not Sure Her Body Could Handle It
Pregnancy is challenging for every woman, but those nine months have been particularly difficult for Kelly Clarkson. In the past, she's opened up about the health challenges she faced during her first pregnancy with daughter River Rose Blackstock. Now that she's about to give birth to her second child, does Kelly Clarkson want more kids? Based on her statements in a recent interview, it sounds as though she's not up for it (and that's totally OK).
During an interview with KIIS FM, Clarkson said she doesn't want more kids, Entertainment Tonight reported:
Oh, no, we are done. Oh good Lord, yes, I can't be pregnant again. This will be our number four total, so we're good.
Clarkson is also a step-mom: husband Brandon Blackstock had two children before marrying the singer, according to Entertainment Tonight. Though Clarkson opted to have a second child, she did so knowing that it might not be easy: she was diagnosed with hyperemesis gravidarum, a condition that makes pregnancy extremely challenging. Hyperemesis gravidarum side effects include severe nausea, an increase in salivation, light-headedness, constipation, dehydration, and weight loss, according to Medline Plus.
Clarkson's first pregnancy brought intense symptoms with it, according to E!. During an interview with Ellen DeGeneres, she revealed how much of a struggle it really was to carry River Rose:
I vomit a good dozen times a day. It's, like, bad. I vomited before coming out here. I'm not even kidding. It's so bad. It's so bad. It's, like, so gross. And that's the thing, too: You're not attractive when you're pregnant. Everybody tells you [that] you glow and your hair is pretty and your nails are pretty. That is total crap. My nails are short, my hair still falls out—it's not all lush and beautiful—and I have no glow. Unless it's, like, something left over from a bad throw up. It's horrible.
Clarkson's second pregnancy isn't much easier, Billboard reported. She revealed that the dehydration can be so intense that she needs to get IV fluids. Clarkson's hopes for an easier pregnancy didn't play out, according to Entertainment Tonight. During the interview with KIIS FM, Clarkson said she didn't think she was "made to be pregnant":
Honestly, the first one was really rough, and I was like, 'Oh, it can't happen again,' and no it happened, like, way worse this time.
Of course, carrying a child isn't just a challenge for health reasons. Clarkson told Elvis Duran of the Z100 Morning Show that pregnancy requires sacrifices, E! reported. For her, the biggest one was giving up wine:
Red wine...Oh my God I miss it so badly! I know people always say you can have a glass, but I just have such complicated pregnancies that I don't want to risk it.
Here's hoping that Clarkson stays healthy during the homestretch. She can look forward to toasting the birth of her second child soon!