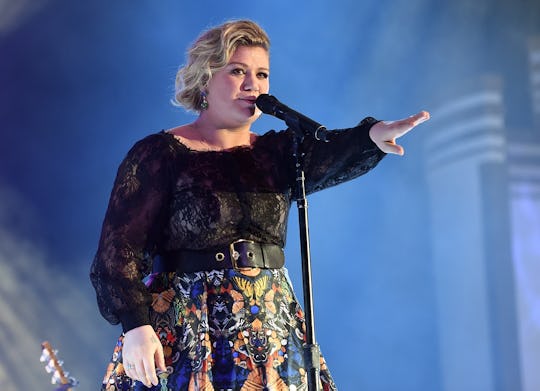 Ethan Miller/Getty Images Entertainment/Getty Images
Does Kelly Clarkson's New Baby Look Like River Rose? Clarkson Says He Has "Charm For Days"
Congratulations to the original American Idol winner Kelly Clarkson and her husband, music manager Brandon Blackstock! On Thursday, the happy couple took to Twitter to announce that their second child together had been born, and that he was happy and healthy. The two named the little boy Remington Alexander, and, given his parentage, the odds are good that he's going to be a very cute kid. But does Kelly Clarkson's new baby look like River Rose, his big sister? Because she's pretty adorable too.
Clarkson announced that she was expecting for the second time back in August 2015 during a concert at the Staples Center in Los Angeles, California. At that point she was a mother to two stepchildren and biological daughter River Rose, first child with Blackstock. When she was pregnant with River Rose in 2013, she endeared herself to fans and mothers everywhere with her all-too-real tweets and stories about her difficult pregnancy. She did not sugarcoat the experience.
In and interview with Ellen Degeneres that year, Clarkson fessed up to the gory deails. "I vomit a good dozen times a day," she said. "It's, like, bad. I vomited before coming out here. I'm not even kidding. It's so bad. It's so bad. It's, like, so gross." But, in the end, all that really paid off. River Rose is an incredibly beautiful baby who is as glamorous and cheery as her mother. (She even has her own bedazzled headphones — so stylish.)
So, what do we know about the newest member of the Idol family? We know he's got a strong name, and he's healthy, too! Clarkson tweeted an excited announcement about River Rose's little brother, Remington Alexander Blackstock early Thursday morning.
Though it's a little early to say, there does seem to be a family resemblance between River Rose and Remington. They've got the same big smile and bright eyes. Clarkson released photos of Remington on Friday night.
And they both definitely know how to work a camera. Let's face it: they're naturals, and they've learned a lot from their celebrity mother already.
Even at the most trying times, they are a photogenic bunch.
Clearly, the Clarkson-Blackstock clan have some very good genes. As for whether they will be having more children anytime soon, Clarkson has a firm answer. "Oh, no, we are done," she joked, in a radio interview with KIIS FM. "Oh, good Lord, yes, I can't be pregnant again. This will be our number four total, so we're good." River Rose looks like she's going to be a great older sister — they'll be two peas in a pod in no time. Welcome, Remington!