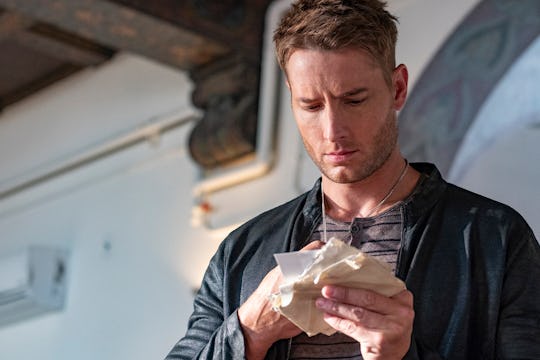 Ron Batzdorff/NBC
Kevin Is Looking For Answers About Jack's Past On 'This Is Us'
Kevin has spent the third season of This Is Us investigating his father's time in the army during the Vietnam War, delving into the days that Jack kept locked up tight throughout Kevin's childhood. It seems like the show is inching closer to some grand revelation with every episode, but so far progress has been slow. Does Kevin figure out what happened to his dad in Vietnam on This Is Us? Or is this one question that can't be entirely answered?
Kevin is a man with many resources, but he can't exactly go back in time. He may visit the places that Jack stayed and talk to the men Jack served alongside, but it still might not paint a full picture of something that occurred well over forty years ago. Kevin can't exactly tune into an episode of the show like the audience can; he can only hear things secondhand.
However, the trailer for "The Beginning Is The End Is The Beginning" boldly claims that every mystery will indeed be solved by the time the hour is up. That, combined with the meeting Kevin has with an unknown but potentially significant man, does make it seem like a major disclosure will close out the fall finale.
In the trailer, Kevin is shown sitting in a very familiar-looking home in Vietnam. He hands over a picture of Jack to an older gentleman and announces that it's his dad before asking if the man recognizes him. There are also a few flashbacks to Jack himself: getting into a fistfight with his brother Nicky in one, and diving into the water in another.
Now, it's just a guess, but the home Kevin is visiting seems to be the same one that housed the woman who gave Jack his necklace. That's also where Jack helped her son recover from an injury. If the man Kevin visits is that same little boy all grown up, then he might be able to reveal what happened to Jack in Vietnam.
Actor Justin Hartley has made it clear that Kevin does get some answers by the end of his visit. In an interview with Entertainment Weekly, he said that Kevin's trip was "a healing thing for him" and that he was "going to get a lot of information, some stuff that he didn't know and didn't expect. And it's going to jar a few things." Hartley went on to describe what Kevin learns as "super heartbreaking" and "shocking," continuing:
It's not what anyone is expecting. No one is going to see it coming. It's ambitious stuff…. Here's the cool thing about it: At the end of Season 3 when you go back and watch the beginning of the series, you're going to [be] like, 'Wow, it all works,' but you never would see any of this coming. I don't know what those writers are eating, but it's brain food. They're brilliant.
It sounds like Kevin finds out exactly what Jack went through all those years ago — and the information leaves him reeling. Does it have to do with Nicky's death? Is it possible, as some have speculated, that Nicky is still alive and living overseas? That remains to be seen, but this revelation is one that can't be missed.
This first-time mom wants to have a home birth, but is she ready? Watch how a doula supports a military mom who's determined to have a home birth in Episode One of Romper's Doula Diaries, Season Two, below. Visit Bustle Digital Group's YouTube page for the next three episodes, launching every Monday starting November 26.