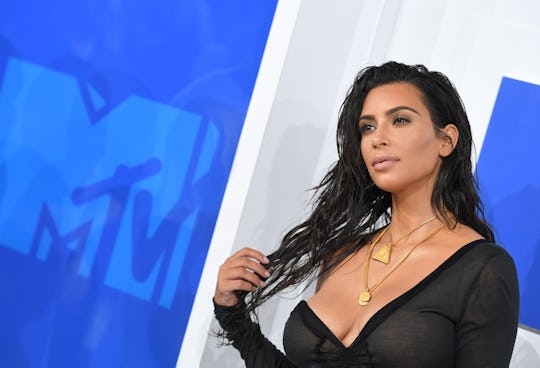 ANGELA WEISS/AFP/Getty Images
Does Kim Kardashian Have Bodyguards? She Was Held At Gunpoint In Paris
Just days ago, Kim Kardashian's security detail tackled a man to the ground to shield the reality TV star and mogul from his advances on the streets of Paris. But no one was around to protect her when she was reportedly bound, gagged, and held at gunpoint in her rented apartment early Monday morning local time by robbers who reportedly escaped with millions of dollars worth of jewelry. Kim Kardashian does have have a body guard, and Pascal Duvier left France with the "badly shaken" star soon after what was undoubtedly a terrifying incident for her.
The world's first hint that something awful had happened emerged when Kardashian's husband, rapper Kanye West, abruptly ended his set at a Queens, New York, music festival midway through the song "Heartless." "I'm sorry, family emergency, I have to stop the show," she told the crowd before hustling offstage.
Soon after, news broke of the crime committed against Kardashian in Paris, where she had traveled with her mother and two of her sisters for Fashion Week: At around 2:30 a.m. local time, five gunmen posing as police officers reportedly forced the armed security guard to allow them to enter Kardashian's apartment, according to The Daily Beast, where they left her bound in a bathroom while they stole about $10 million worth of jewelry.
"Kim Kardashian West was held up at gunpoint inside her Paris hotel room this evening by two armed masked men dressed as police officers," a Kardashian spokesperson said in a statement to Romper. "She is badly shaken but physically unharmed."
Just hours before, Kardashian tweeted a photo of herself with her body guard, Duvier, shadowing her. "This guy is always in my shot!" she wrote.
At the time of the attack, though, Kardashian was apparently all alone. According to The Daily Mail, Duvier was out with Kardashian's sisters, Kourtney Kardashian and Kendall Jenner, while they partied at a Paris nightclub. When he heard about the heist, he reportedly hurried back to the nondescript luxury apartment.
The incident unleashed a wave of speculation on social media about how the criminals could have gained access to Kardashian despite the security she employs.
Kardashian, though, has previously expressed appreciation and admiration for Duvier. On Wednesday, Duvier literally tackled Vitalii Sediuk, a Ukrainian man who considers himself a "celebrity prankster," into the pavement for trying to kiss Kardashian's behind. Afterwards, the Keeping Up With The Kardashians star tweeted that Duvier was a "G." (SIDE NOTE: Sexual assault and sexual harassment is never the work of a "prankster.")
Here's video of that encounter:
Duvier is a German-born judo expert, according to The Daily Mail, who once worked for Justin Timberlake before Kanye West hired him. He also has a vibrant social media presence: "You don't become a bodyguard over night," he tweeted Sunday. "It's a job with dedication, responsibility and passion."
Kim Kardashian's harrowing experience in Paris over the past highlight how crucial protection is for someone as prominent as she. After the major robbery scare, she may want to enlist a few more Duviers to look out for her around the clock.