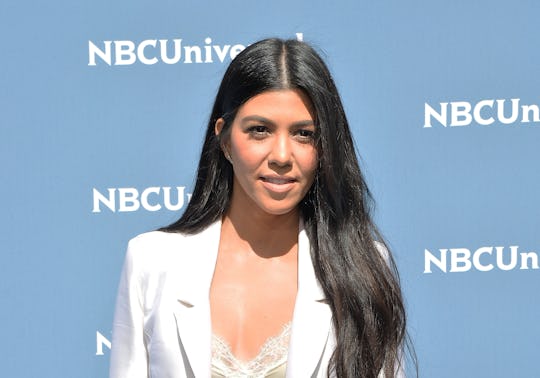 Slaven Vlasic/Getty Images Entertainment/Getty Images
Kourtney Kardashian Isn't Ruling Out More Kids
In the land of the Kardashians, it can be hard to keep up with all the cast of characters: The Kardashian tribe is massive, between the four Kardashian children — Kourtney, Kim, Khloe, and Rob — plus their half-sisters, Kylie and Kendall. Oh, and lets not forget about all of their kids, too! Of all the Kardashian family, it's oldest daughter Kourtney who seems to be following the closest in her mother's Kris' footsteps of raising a big family. With three children of her own already, does Kourtney Kardashian want more kids?
For Kourtney, bring on the babies. Even when she was pregnant with her second child with partner Scott Disick, Kardashian was already thinking beyond babies one and two. In a 2012 episode of Keeping Up With The Kardashians, she talked about how she "didn't believe" in the birth control pill anymore, and that for her, having children "is what life is about." Since that episode aired, Kardashian has had one more child, a boy named Reign, with Disick. Speaking to Cosmopolitan in August of last year, Kardashian revealed that while she's over the moon about her three children, she definitely wants more children: "I would have more. I could see myself with six kids," Kardashian said. "I just don't know what's in God's plan."
Now, what about Disick as the father of those future kids? While Disick is the father of Kardashian's three children — 7-year-old Mason, 4-year-old Penelope, and 1-year-old Reign — the two have had a very on-again, off-again relationship, widely chronicled on both Keeping Up With The Kardashians and Kourtney and Kim Take New York. On the latter, Disick came so close to proposing to Kardashian in 2011, even going so far as to buy an engagement ring. In the show's season finale, he ultimately chose not to propose when Kardashian felt that there was "no reason to change" the good thing they already had going for each other. Then, in July 2015 and after nine years of dating, Kardashian and Disick called it quits. But then just last month, E! News reported that Kardashian and Disick were back together again, after a year and a half apart.
Since Kardashian has been so open about her desire for more kids, her fans are always on the lookout for any possible clues about any signs she might be pregnant. A recent Snapchat video of when she was pregnant with her first child lit up all kinds of rumors around the holidays, and a video on Kardashian's website teased the possibility of baby No. 4 — but there's been no official word from Kardashian or Disick about whether she's really pregnant right now. Still, with a lifetime dream of potentially up to six kids, there's definitely the possibility that fans can expect yet more children coming to the Kardashian brood.