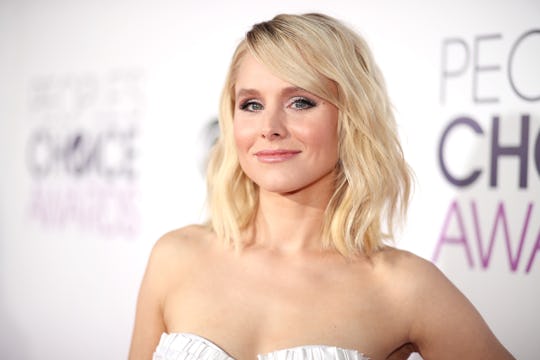 Christopher Polk/Getty Images Entertainment/Getty Images
6 Times Kristen Bell Was A Breastfeeding Advocate
Actress Kristen Bell recently made headlines when she revealed the secret for her Hollywood-sized bust in the CHiPS movie remake, written, directed, and starring her husband, Dax Shepherd. Her one weird trick? Not pumping for a day while she was breastfeeding her daughter Delta, who was born right before shooting for the film began. While the Veronica Mars actress has been public about pumping, does Kristen Bell support public breastfeeding? You bet your sweet bippy she does — and she's been a very outspoke advocate to normalize breastfeeding for moms everywhere.
Bell has always been both comfortable and candid when speaking about her breastfeeding experiences with her two children, son Lincoln who turns 4 next week and 2-year-old daughter, Delta. Speaking to ACCESS Hollywood, Bell spoke about what the experience of not pumping for a day was like. "When you don't pump when you're breastfeeding, your boobs go out and then they go up," Bell said, with illustrative hand gestures to match. "I just handled that skin-splitting feeling to shoot this movie." The actress then joked that she told her "hungry" kids, "Daddy's gotta make a movie. Everyone is going to have to deal with it."
When it comes to breastfeeding in public, Bell told Babble, "If somebody is uncomfortable, that's their problem." Right on! Here are six other times that Bell has stepped up to advocate for breastfeeding moms.