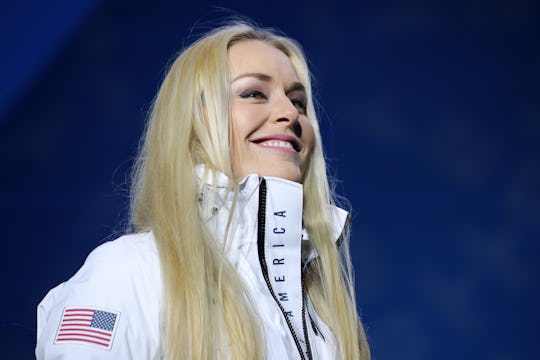 Andreas Rentz/Getty Images Sport/Getty Images
Lindsey Vonn Talks Trump & The Country She's Representing At The Olympics
As much as some sports fans might wish that everyone could put politics aside for a moment, this is a new era, and that's definitely not going to happen any time soon. From football players silently protesting racism to the president calling those same men "sons of b*tches," the two subjects are intermingling like never before. The members of Team USA are currently representing their nation to the rest of the world, so right now, their politics are a pretty big deal. Wondering if your favorite skier, Lindsey Vonn, supports Donald Trump? She most certainly does not, and she's not afraid to tell anyone, either.
In December, CNN's Christina MacFarlane pointed out that Vonn had previously competed at the Olympics under two other presidents, and asked her how it would feel to compete with Trump in office. "I hope to represent the people of the United States, not the president," Vonn answered. "I want to represent our country well and I don't think there are a lot of people, currently, in our government, that do that." MacFarlane then asked if Vonn would accept an invitation to the White House if she were to win a gold medal in PyeongChang. Vonn didn't hesitate for a second. "Absolutely not," the skier said with a smirk. "No. But I have to win to be invited... Actually, I think every U.S. team member is invited. So, no, I won't go."
The comments drew sharp criticism from Trump's ever-dwindling roster of supporters, namely, Twitter trolls who threatened violence, and Tomi Lahren, the constantly-offended alt-right commentator who proudly credits her self with popularizing the term "snowflake." "What about the Americans who are Trump supporters that voted for President Donald Trump?" Lahren asked on Fox & Friends Weekend. "Are we not Americans? Does she not want to represent us?" Lahren did not mention the roughly two-thirds of Americans (per Quinnipiac's latest poll) that do not support Trump, nor the 80 percent (per the U.S. Census) who did not vote for him.
Lehren also questioned Vonn's right to have an opinion at all:
I think these athletes, boy, they just can't help themselves. They have to get political, they have to say things that not only disrespect the president of the United States, but disrespect so many Americans that are supporting the president that are supporting their country. It's like patriotism is so foreign to them, and they just can't stand it.
Vonn's not backing down, though. "I was asked my opinion and I gave it," she told CBS News. In a lengthy Instagram post, she doubled down on her comments:
The Olympics are a non-political event, a chance for everyone to put aside their differences and be on the same "team." That does not mean that Olympic athletes don't have political opinions. As an American, I am extremely proud that our great nation was founded on principals and ideals where citizens can express our opinions openly. It is a privilege that some others around the world don't have.
I am proud to be an American, and I want our country to continue to be a symbol of hope, compassion, inclusion and world unity. My travels around the world have recently made clear that this is no longer how people view the United States.
Unfazed by those who trolled her online after she finished sixth in the women's super-G event last week, Vonn went on to score the bronze in the women's downhill on Wednesday, and once again defended her right to speak her mind. "I am proud of what I represent and who I am, and I'm very proud to hold the American flag on the podium," she told USA Today. "All Americans deserve to hold the flag and to be proud of their country, no matter what their beliefs, because that's what makes America great."
Check out Romper's new video series, Romper's Doula Diaries:
Watch full episodes of Romper's Doula Diaries on Facebook Watch.