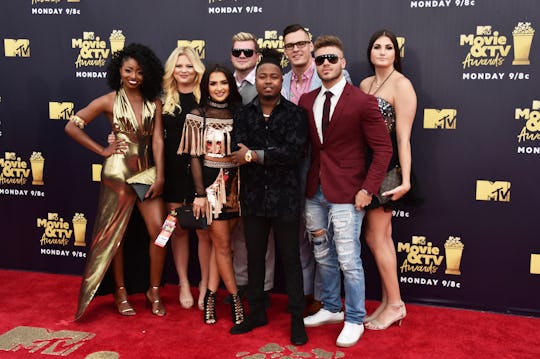 Alberto E. Rodriguez/Getty Images Entertainment/Getty Images
You Might Have Seen The Last Of Logan On 'Floribama Shore'
Kortni Gilson has had a contentious, on-and-off-again relationship with Logan Fairbanks on MTV's Floribama Shore, which has raised concerns because of how possessive and jealous he could be. There were even times when he seemed to make Kortni and her roommates afraid. She's cut ties with him in the past, but they always seem to get back together. So does Logan show up again on Floribama Shore, or is he gone for good?
This time, it seems like things might really be over between Kortni and Logan. In a recent Season 2 episode, Kortni called the cops on Logan and decided to take out a restraining order against him. He had been making unexpected visits to try to get her back, but MTV reported that he had also been threatening those closest to her. He even followed various cast members around, so it's no surprise that Kortni's friends were encouraging of her getting the restraining order.
"This is a lot deeper than anyone may think," Kortni said, per MTV. "My safety is at risk, and so is other people's. I can't go out for five minutes without him showing the hell up." It seemed clear that she felt unsafe in his presence, and taking steps to make him keep his distance allowed her to feel more in control.
Kortni explained, "It feels good to put the ball in my court when it comes to the drama that's going in my life with Logan. I feel a little bit of relief that it's over and we can move on from this. And you know what? I feel safer now that I'm pressing charges on him."
However, Logan ended up violating that restraining order more than once, according to TMZ. He appeared at Kortni's place of work and threatened her with physical violence, but she chose not to have him arrested. Their contact ceased for a little while, but in June of this year he began sending her messages again and stated that "he didn't care if he went [to] jail." Kortni contacted the police again to let them know, but it took them several months to locate Logan. He was arrested in August.
It's difficult to find information on Logan's whereabouts now; in November, Monsters & Critics stated that his current location was unknown. Assuming he's still in custody, it's unlikely that he'll be showing up on Floribama Shore again anytime soon. It doesn't seem like he and Kortni have had any further altercations since his arrest.
Episodes of Floribama Shore are filmed months ahead of when they're aired, so there's a chance that Logan may make some appearances in any sequences shot before his arrest. It's especially possible because he was still harassing Kortni even after the restraining order. But any future appearances seem unlikely, because Logan could still be dealing with legal issues relating to his arrest. If he was released, going near Kortni could be another violation of the restraining order. Logan showing up again on Floribama Shore is something Kortni hopefully won't have to worry about anymore.
This first-time mom wants to have a home birth, but is she ready? Watch how a doula supports a military mom who's determined to have a home birth in Episode One of Romper's Doula Diaries, Season Two, below. Visit Bustle Digital Group's YouTube page for the next three episodes, launching Mondays in December.