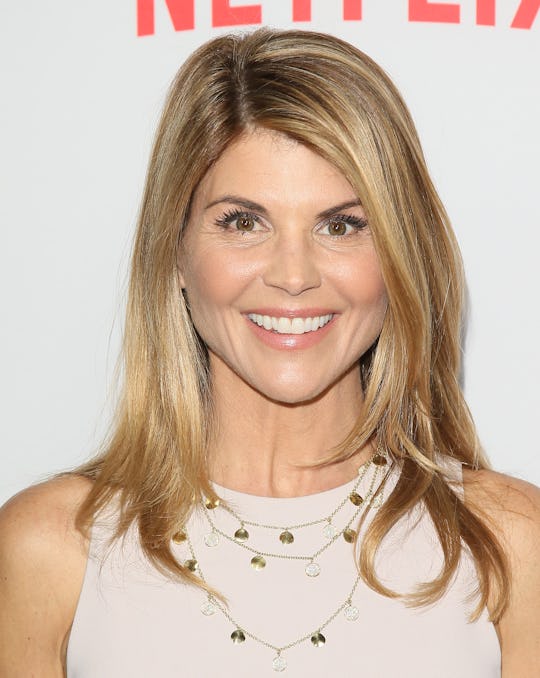 JB Lacroix/WireImage/Getty Images
Does Lori Loughlin Have Kids In Real Life? The 'Fuller House' Star Is Able To Draw From Her Own Experiences As A Mom
Aw, Aunt Becky, you were one of my favorite TV moms. You were sweet and funny, independent and powerful, and you rocked a Scrunchii better than most gals I knew in elementary school. (Sorry — I was young when Full House aired.) In fact, I was young enough to believe Lori Loughlin was Rebecca (Becky) Donaldson-Katsopolis — like IRL. And while I now know she isn't, sometimes I still cannot separate the two. Which got me thinking: If Aunt Becky was such a great TV mom what type of mom is the actress who played Becky — i.e. does Lori Loughlin have kids in real life?
It seems Loughlin not only had children but she has two teenage children — and one 23-year-old stepson. (God, I feel old!) Loughlin's oldest daughter, Isabella, is 16, while her youngest, Olivia, is 15. Loughlin told People she loves being a mom, but don't let that fool you — that doesn't mean she isn't strict. "I'd like to think I'm somewhat their friend, but more importantly, I am their mother and a guiding force," said Loughlin. "I am strict with my girls."
Loughlin went on to explain that some of her "strictness" is par for the course when raising teenagers, according to YourTeenMag.com:
I try to be open-minded and patient. [But] it's trickier now that the girls are teenagers.... I try to parent so that they don't really realize they're being parented and approach them in a way that's not too aggressive or stern. For the most part, I'm there in it, with the everyday ebb and flow of their moods. And yes, it can be challenging.
Even with all the challenges, Loughlin stated her family is her priority — and she wouldn't have it any other way, according to People. "Once I decided to have a family, I said that would be my priority," she said. "Life goes by so fast."
Loughlin also pointed out that she was "lucky", as she had a career around which she could tailor her personal life, i.e. her kids, husband, and everything else unrelated to her work.
Lori Loughlin, John Stamos — her TV husband — Dave Coulier, Bob Saget, and the rest of the Full House clan (sans the Olsen twins, of course) will be returning to our living rooms, and our lives, later this month on the big Netflix reboot everyone has been waiting for since the Tanners left television in the '90s. Fuller House is set to debut on Feb. 26 (go ahead and binge-watch if so desire) — and I couldn't be happier.