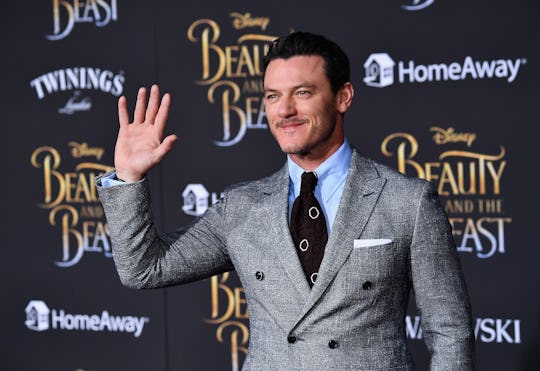 Frazer Harrison/Getty Images Entertainment/Getty Images
Luke Evans' Musical Talents Are Unbeatable
Those who are familiar with Luke Evans' history in Hollywood might be a bit surprised that the Fast and Furious 6 actor took on the role of Gaston in Beauty and the Beast. As anyone who grew up with the Disney original knows, it's a slightly more musical movie than the kind Evans usually takes on. But does Luke Evans actually sing, or was Beauty and the Beast a one-off for him? More pressing for anyone who loved the film, did Evans actually sing in the movie, or did he just lip-sync really, really well?
As it turns out, Evans is actually quite the songbird. Before he started starring in movies like Girl on the Train and The Hobbit, Evans was a musical theater actor. In fact, musical theater was actually what inspired him to become an actor in the first place. "I used to go to the theater with my mum and dad and watch the musicals on the West End in London," he recently told readers in an Entertainment Weekly question-and-answer session. "I thought the power a person could have to transport you from your seat to the world they were inhabiting was such an incredible skill. I loved the escapism."
Beauty and the Beast turned out to be the perfect opportunity for Evans to fuse both of his careers. "Musical theatre has never left my blood," he said. "I was waiting for the right project to be able to marry my theatre background with my film career. This movie was it!!!"
According to the BBC, Evans showed off his on-stage musical prowess in the play Taboo in 2002, and in 2007's Rent revival. Nowadays, he can be found singing in Beauty and the Beast, as well as on the occasional talk show. (He recently sang a few lines of Adele's "When We Were Young" on The Jonathan Ross Show and made Emily Blunt fall in love with him a little bit. Who can blame her?)
"I feel very passionate about telling a story with music and lyrics," Evans told Pop Inquirer recently. And that's the trait that Beauty and the Beast director Bill Condon said made Evans perfect for the role, telling Pop Inquirer:
Here's the thing about Luke Evans. He has all the qualities that are right for Gaston but he has this other thing which comes from years of working on a stage and which is so important to have in a movie musical, and that's the joy of performing. This is a role he was born to play.
If you want to hear Evans sing his heart out as Gaston, you won't have to wait long: Beauty and the Beast hits theaters in the United States on March 17, so book your tickets now before they're all sold out.