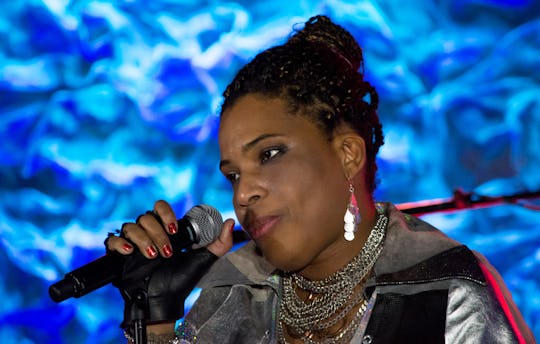 Steven Henry/Getty
Does Macy Gray Have A New Album Coming Out? 'Fuller House' May Have Jumped The Gun
Fuller House really is throwing it back — and not just to the early '90s. Though the Netflix original series makes plenty of references to the 1990s, it is also incorporating some elements of the early 200s as well. And that starts with Macy Gray's surprise cameo in episode three. The singer, best known for her hit "I Try", makes an appearance during D.J, Stephanie, and Kimmy's girls night out at Euphoria dance club. Throughout the night, she serenades the crowd and even announces a new album. Which begs the question, does Macy Gray have a new album coming out?
Well, yes and no. In the episode, Gray announces that the song she performs is off her new album The Way (which, she notes, you can buy on iTunes or the trunk of her car.) But according to Billboard magazine, Gray released The Way in October 2014. This then this raises a whole new question: what year does Fuller House take place? Is it actually set in 2014, when The Way was originally released? Or does Macy Gray actually have a new album out in 2016, but she wants to keep it a secret? Or am I am overthinking things? Probably the latter, right?
As it turns out, Gray's album announcement on Fuller House wasn't a total lie. In January 2015, Gray created an page on Pledge Music, a "direct-to-fan platform that provides artists and labels with the tools needed to get fans to engage early," to gauge interest in an extended, deluxe version of The Way. On the page, Gray wrote:
Hey y'all!
For the first time ever, I'm inviting all of my beautiful fans to join me in making four new tracks for The Way's extended deluxe edition. I can't thank you enough for supporting me with the release of my newest record and hope you have been enjoying it.
Exclusively through PledgeMusic, you're invited to experience the entire recording process with me. I'm gonna let you be a part of this deluxe album from the beginning. I'm talking writing sessions, vocal recording sessions, first mixes…you get to experience it all when you order The Way's Extended Deluxe Album here with super unique experiences and exclusive behind the scenes access.
Let's have some fun together in the studio and you can even sing on this new record with me, star in my next music video, get backstage passes, private concerts, Executive Producer credit, personal voicemail greetings, and more.
Thank you so much for the support. It means the world to me.
God Bless,
Macy
According to her page, Gray reached 188 percent of her goal and the new-ish album is available for pre-order. And yes, it will feature "Hands," the song she sang on Fuller House.
And, if sales skyrocket, she may have the Tanner family to thank.