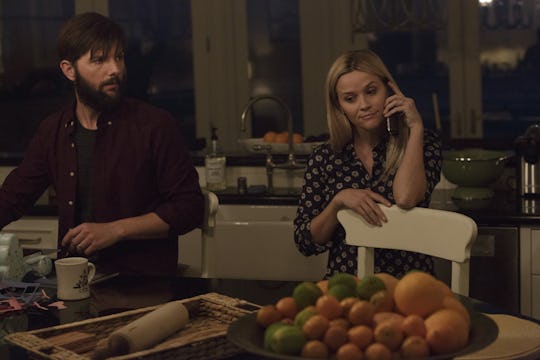 Hilary Bronwyn Gayle/HBO
Madeline & Ed Aren't In A Great Place On 'BLL'
Warning: spoilers from the finale ahead! For the most part, the HBO series Big Little Lies stayed true to the Liane Moriarty novel on which it was based. There was a plot point, though, that was not at all in the original storyline: Madeline's affair. On the show, Madeline slept with her boss at the community theater, Joseph. It happened around a year prior to the events surrounding Trivia Night, but Joseph came back to confess his love for her. This sent her in a whirlwind of conflicting emotions. But does Madeline tell Ed about the affair on Big Little Lies? The finale left us with a few questions.
Before the series began, Reese Witherspoon hinted that there would be an element to Madeline's character arc that wasn't seen in the novel. In an interview with Variety, she said she asked for a plot point that would add more meat to the role. "Because I didn't have anything to play but perfection, and I just think those people who are perfect [are] all full of s---," she told Variety. "I think there's something fascinating about a person who projects perfection or is very judgmental of others who is clearly just swimming in their own discontent." As Big Little Lies progressed, we saw what Witherspoon meant by that statement. Madeline is quick to gossip about others, but she was mum about a big secret of her own.
Throughout the second half of the season, the affair seemed to consume Madeline. It even resulted in her and Joseph getting into a car accident because both were distracted during a talk about where they stood. Joseph was hellbent on running away with Madeline, but she was hesitant. She didn't want to leave Ed or her children. Madeline even confided in her teenage daughter, Abigail, about what happened after she wanted to sell her virginity on the internet. Madeline argued that what she did was worse than what Abigail was trying to do.
During the Big Little Lies finale, we didn't get the closure on Madeline and Joseph that we craved — and even novel readers didn't know what was going on. He approached her yet again, and argued that she was in love with him. When Ed went on stage to serenade her with Elvis's "The Wonder Of You," she couldn't bear to watch. Ed suspected something was wrong (which may be why he chooses to sing that song), but we don't know for sure that Madeline ever told Ed. Given her guilt, it wouldn't be surprising if she did. This is Big Little Lies, however, and Madeline may keep that lie to herself. From the uncertainty of the finale, we can assume Madeline may remain uncertain herself over whether she should tell Ed. If anything, this is yet another reason why Big Little Lies should get a second season.