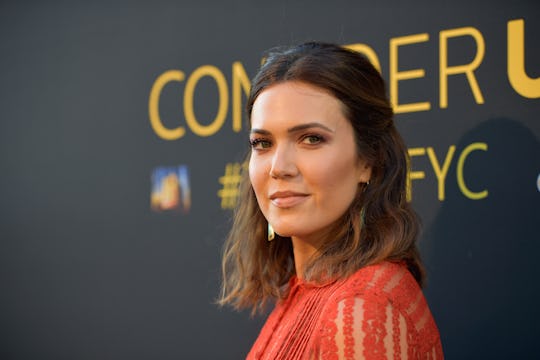 Matt Winkelmeyer/Getty Images Entertainment/Getty Images
Mandy Moore Says She's Ready For Kids "Sooner Rather Than Later"
Actresses play a bunch of different roles on TV and the movie screen; that is their job, after all. While some roles require them to draw on personal experiences, other roles require them to think outside the box and partake in roles that they have not done before. Mandy Moore plays a mother to three children throughout the course of their emotional roller coaster lives in This Is Us but does not have any children of her own. But being a mother might be a role that she is about to take on within a few years. This is because, in a recent interview, Mandy Moore said she wants kids "sooner rather than later" and it can not be any more exciting, especially for fans of her show.
Moore already has some pretty great experience in being a mom through her current television role, as previously stated, playing the mom to the "Big Three" on This Is Us. If she were to have kids soon, this is one thing that she would definitely have on lock. There is already an indication that her having kids might happen within due time.
In a sneak peek of an interview on Sunday TODAY, airing this Sunday, Moore opened up to host Willie Geist about her possibly having kids in the future. Moore said:
I've always wanted to be a mom. I think I was waiting for the right person and the right time and for that to sort of coincide. I think that's definitely the next chapter for me, sooner rather than later. I've gotta figure it out with the show and how I can kind of time it out correctly. But yeah, I'm excited.
But, getting pregnant might be a little hard for Moore to incorporate into the show's storyline. Especially since the show has already been renewed for a third season and the show's ratings make it clear that people are in love (and far from done) with the Pearson family's story. Moore joked about incorporating a future pregnancy into the show with Geist, saying:
They can computer — they can like, alter my body. I can hold a lot of bags or shopping baskets in front of me. A lot of acting from here [waist] up.
Moore has already claimed to People last year that playing a mom on TV has made her "ovaries start kicking" and has been very open about wanting to be a mom in the past. In that same interview from last July, Moore stated that she was "definitely ready" to have kids, telling People that it's "about that time" in her life to start having them. And in July of this year, Moore told People that she was ready to get married and have a family "in the next chapter."
Moore is certainly well on her way to her next chapter. In September, Moore and then-boyfriend, musician Taylor Goldsmith got engaged and they're currently building a home together. In a very recent interview with People, Moore opened up about her relationship with Goldsmith, telling the magazine that Instagram is responsible for setting her up with her future husband, after she took photo of Goldsmith's band's album and posted it to her account. Moore told People:
Somehow, Taylor saw it and sent me a note. We started emailing back and forth, then went on a date and the rest is history.
Moore gushed about her fiancé to People in the same interview, telling the magazine that he has her back, understands her, and supports her. "I found the right person and I feel like we can handle anything together," Moore said.
If Moore claims that they can handle anything together then they are definitely capable of handling kids and becoming parents. Their meet-cute is the kind of story that they will definitely be telling their future kids and grandkids when they finally have them. Based on Moore's recent interviews, it is clear that she is more than ready.