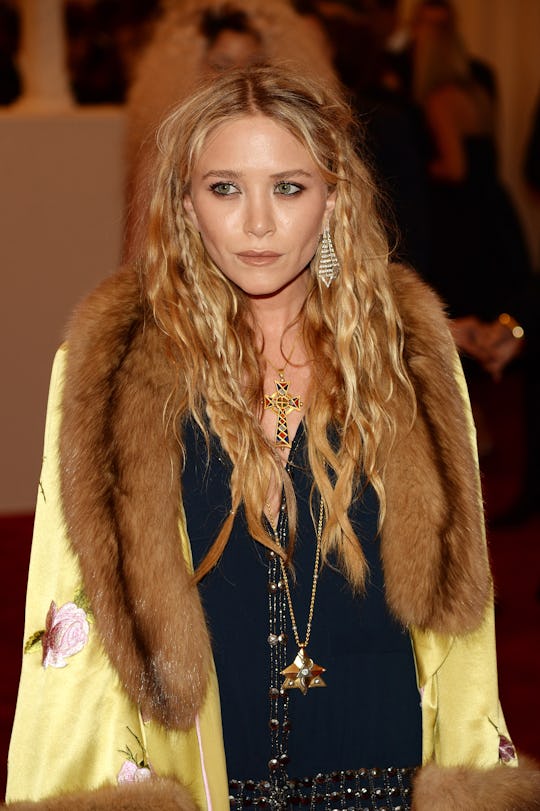 Dimitrios Kambouris/Getty Images Entertainment/Getty Images
Mary-Kate Olsen Opens Up About Family Life
Although the Olsen twins grew up in front of the eyes of every '90s kid glued to their television sets, the two women have managed to keep the details of their adult lives almost completely out of the spotlight in recent years. However, in a rare interview, the famous duo opened up about their successful fashion lines, their work ethic, and at least one of their family lives. Ever since she tied the knot with French banker Olivier Sarkozy at an intimate Manhattan ceremony in 2015, fans have often wondered amid tabloid speculation if Mary-Kate Olsen has kids with her husband and whether they have any plans to expand their family in the future. Now, the 30-year-old fashion designer has finally set the record straight.
In a recent interview with Net-A-Porter's The Edit, Olsen spoke briefly about how she manages to keep it all together with a busy schedule and two teens at home from Sarkozy's previous marriage to Charlotte Bernard, a freelance fashion writer and children's books author.
"I think we're lucky. [Working hard] comes quite naturally for us. We don't need so much time to sit and think and ponder," Olsen told The Edit. "But then I have a husband, two stepkids and a life; I have to go home and cook dinner. I run on the weekend. You find the thing that helps you relax, and if you don't have it, you have to look for it. Or you get burned out, and then you're not productive."
Aside from her celebrity status and huge net worth, Olsen's home life appears very down to earth. Fans don't quite know whether she's whipping up gourmet meals with the help of a personal chef — it's not totally unimaginable, they do reportedly live in a $6.25 million townhouse in New York City, according to Us Weekly — but her down time after work does seem pretty normal.
According to Hollywood Life, the child star turned fashion designer's stepkids would be in their mid-teen years right now — 15-year-old stepson Julien and 13-year-old stepdaughter Margot. "Mary-Kate takes her role as stepmother to those kids very seriously," a source reportedly said last year, according to the site.
Don't expect any photos of her family to appear on your social media feeds: the 30-year-old twins aren't active on any social media platform, which they say has helped them stay focused on their business without any outside pressure or influence, according the same interview with The Edit.
"Because we don't dive into that whole world [of social media] and we don't have Facebook, we've never been connected to our fans in that way," Ashley Olsen told The Edit. "We've stayed quite sheltered in that sense."
After being in the public eye for so many years, it makes complete sense that they might prefer to have their adults years to themselves — even if they are multi-millionaire business moguls. For now though, far from the public's prying eyes, it seems both Ashley and Mary-Kate are very happy with things as they are.