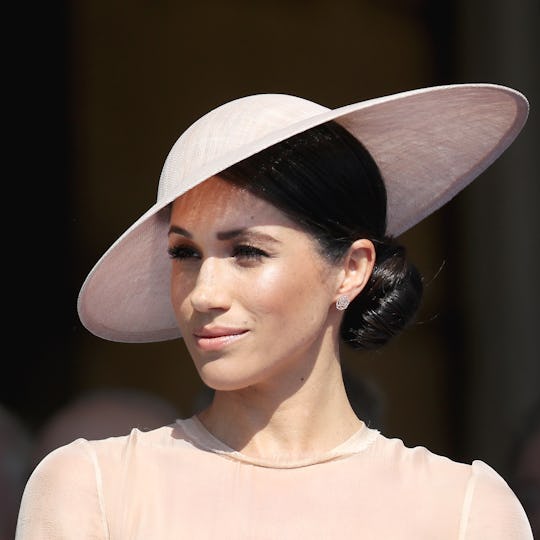 Chris Jackson/Getty Images Entertainment/Getty Images
Does Meghan Markle Have An Instagram Account? Here's Why She Some Royals Don't
Meghan Markle is in her second week of active royal duties, and the world can't get enough. Though a lot has changed in Meghan's life since she married Prince Harry, one notable difference is that she no longer has social media accounts. However, People reported that some members of the royal family are able to maintain their online presence, which begs the question: Does Meghan Markle have an Instagram account? Princess Eugenie has one, so why can't Meghan?
To make a long story short, no, the new Duchess of Sussex is not on Instagram, though she used to be. In January of this year, she closed her blog and deactivated her personal social media accounts, in keeping with her new family's rules. People reported that Meghan isn't allowed to update her 'gram because she is technically a working royal, while Princess Eugenie is not.
People also reported earlier this year that a palace "insider" said Meghan's decision to log off social media was also pretty personal. "Ms. Markle is grateful to everyone who has followed her social media accounts over the years," they told People. "However as she has not used them for some time she has taken the decision to close them."
Prior to becoming royalty, Meghan was a working actress, starring on the TV show Suits. She regularly updated her Instagram and Twitter accounts, sharing photos of her vacations, friends, and her precious dog. She even ran her own blog, The Tig. Because the site was deleted months ago, the only way for people to read it is through internet archives. When it was running, the site was a bona fide lifestyle blog, featuring everything from Meghan's wine preferences to information on mental health issues.
After three years of running the website, Vogue reported in April of last year that she decided to shut it down, meaning that her decision not to keep running it had less to do with becoming royal and more to do with just having outgrown the three-year-long project. She wrote at the time:
After close to three beautiful years on this adventure with you, it's time to say goodbye to The Tig. What began as a passion project (my little engine that could) evolved into an amazing community of inspiration, support, fun and frivolity. You've made my days brighter and filled this experience with so much joy. Keep finding those Tig moments of discovery, keep laughing and taking risks, and keep being "the change you wish to see in the world. Above all, don't ever forget your worth - as I've told you time and time again: you, my sweet friend, you are enough. Thank you for everything.
Though the world can no longer keep up with Meghan through her social media accounts, they have since been replaced by her very own page on Royal.uk, the family's official website. Titled simply, "The Duchess of Sussex," the page offers biographical information about Meghan (as in, where she was born and when she became royal) as well as her life before becoming a Duchess, and what she hopes to accomplish in the future. On the segment titled "World Vision," the page reads:
In addition to her role with UN Women and One Young World, Her Royal Highness became a Global Ambassador for World Vision in 2016. As part of her work with the charity The Duchess visited Rwanda on a clean water campaign that would work to allow young children to continue their education.
It's clear that Meghan's priorities have shifted, but that she's more committed to maintaining her life as a public figure than ever. Sure, fans might miss out on cute pics of her dog and a gorgeous selfie here and there, but Meghan will make up for it will press tours, official portraits, and of course, all the trappings that come with her new, royal life.