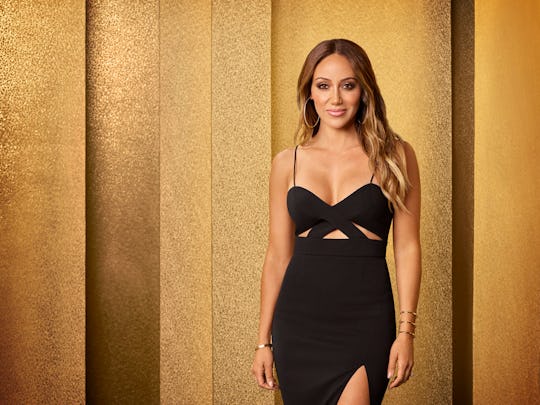 Tommy Garcia/Bravo
Melissa Gorga Teases She May Have A Long Lost Sister On 'RHONJ'
Although most of Melissa Gorga's storylines on The Real Housewives of New Jersey revolve around the family she married into (thanks to her sister-in-law's OG status on the show), this season, fans will learn a little bit more about her personal backstory. They already know that her father died unexpectedly in a car accident when she was 17 and that she has an unbelievably strong bond with her two sisters as a result. But does Melissa Gorga really have a long lost sister? It's one of the questions RHONJ is asking in Season 9.
In Episode 3, fans learn that Melissa went back to visit Concetta, the medium whom she hired to speak with Joe and Teresa after their mom's death. This time, Melissa went alone and without cameras to talk about her dad, and during the course of the session, Concetta asked her how many sisters she had.
"I said, you know, two. And she's like, 'No, your dad wants you to know you have another sister,'" Melissa reveals to a rapt audience of her friends in a clip. She goes on to describe her dad as "colorful, he was a little maybe promiscuous," and she recalls that at his funeral, there was a mysterious woman sobbing in the last row of the church but no one in her family knew who she was. Melissa has an odd feeling that she may somehow be tied to her father's past, and possibly this other sibling.
"If this were just a medium saying this to me, I could maybe write it off," Melissa continued in a cutaway interview. "But with my dad's past history and this memory of the woman at the funeral, there's just too many coincidences to just dismiss it."
It's not clear yet if she actually makes contact with the woman from the funeral during this season, or if she discovers any other siblings. But Melissa makes it known to her friends that she's determined to find out as much as she can, even if it may be painful for her immediate family.
"You're going to see more personal things about my mom, my sisters, and things about my father that come to light," she told Cosmopolitan in an interview earlier this month. "They really just came about naturally during filming, so it was kind of crazy, but it happened while the cameras were rolling."
Of course, after a brief reconciliation with Teresa following her release from prison, it looks like Melissa and her sister-in-law fall back into their vitriolic feuding this season. So this may be the perfect time for her to focus on reconnecting with other family. No word yet on what Joe Gorga thinks of his wife's mission to dig up her dad's past. RHONJ airs Wednesday nights on Bravo.
Season 2 of Doula Diaries shares the stories of fearless doulas helping their clients take control of their births and make tough choices that feel right to them. Watch the first episode of the new season Monday, November 26th.