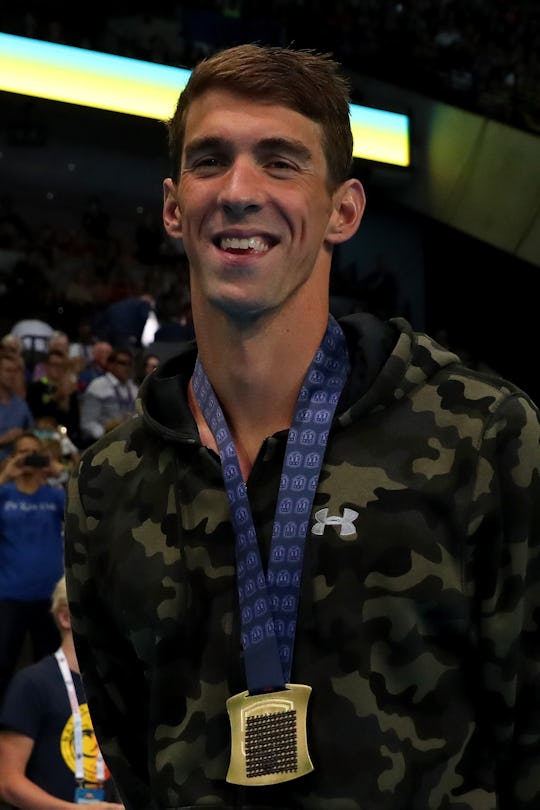 Tom Pennington/Getty Images Sport/Getty Images
Does Michael Phelps Have Kids? He Just Became A Father
Michael Phelps has many titles to his name. Gold medalist, national hero and the greatest ever Olympian are among them. But the 31-year-old just added "daddy" to that list. Does Michael Phelps have kids? Phelps and his fiance, beauty queen Nicole Johnson, welcomed son Boomer Robert Phelps in May.
Phelps had to miss a race in Atlanta to greet his son, who came three weeks early. He wasted no time introducing Boomer to the world. Immediately after his son was born, he melted hearts on Instagram, posting a photo holding his son captioned, "Best feeling I have ever felt in my life!!!"
Baby Boomer is already an internet sensation. The two-month old has his own Instagram account and boasts 36,000 followers.
Phelps also took to Facebook Live last month on his way to the airport, to talk about his new little family.
Life with a new baby has been an adjustment, Phelps admitted in the video. The Olympian lost ten pounds since Boomer's birth.
"It's like, you're so tired, you really don't want to eat all the time, so it's almost like I'm forcing myself to eat when I don't necessarily want to eat," he said on Facebook.
Phelps also spoke about his latest milestone, changing his first diaper. "I was afraid to change a diaper at first, and today I was like, 'I'm gonna do it. I'm gonna have that experience before we leave," he said.
‌
As for his son's name, Phelps explained that he "wanted something different and something cool." Boomer's middle name, Robert, is a homage to Phelp's longtime coach, Robert Bowman.
Phelps, who has won 22 Olympic medals, is taking his son with him to his fifth Olympics in Brazil this July, according to the Daily Mail.
There are big things ahead for mommy and daddy as well. Phelps announced he and Johnson plan on getting married after the Olympics. The couple revealed their pregnancy last November and have been dating on and off since 2009.
It seems things are turning around for Phelps. The star hit a rough patch last year when he was arrested for driving under influence, his second such offense. Phelps received an 18-month probation and a one year suspended jail sentence.
Despite the adjustment of life with a new baby, the Olympian raved on Facebook about being a father.
"It's been an awesome, awesome, awesome few days. Probably — actually, not probably — 100 percent probably the coolest experience that I've ever had, being able to welcome Boomer into the world with Nicole," he said.