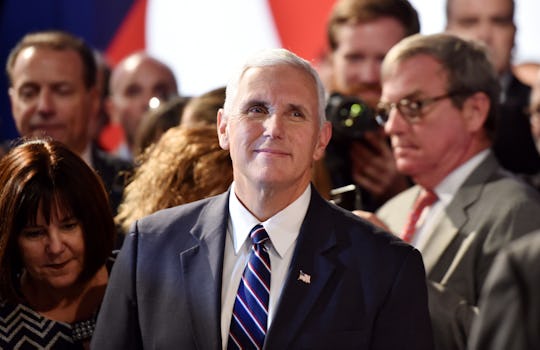 PAUL J. RICHARDS/AFP/Getty Images
Does Mike Pence Support Donald Trump's Mexico Plan? He Stands Behind His Running Mate
You don't have to be an expert on politics to know that Republican presidential nominee Donald Trump has a pretty unorthodox opinion about the relationship the United States will have with Mexico if he wins the election in November. Early on in his campaign, Trump made headlines for his controversial (and frankly, offensive) statements about Mexico sending drugs and rapists, and his plan to build a giant wall along the border has been a big part of his platform. But one person voters haven't heard as much from is Trump's running mate, Republican vice presidential candidate and Indiana Gov. Mike Pence. Does Mike Pence support Donald Trump's Mexico plan? He definitely does — although he's taken a much less inflammatory approach to communicating it.
Given Trump's tendency for off-the-cuff remarks and comments that often rub a lot of people the wrong way, it can't exactly be easy for a politician like Pence to figure out how best to respond. But, as you can expect, he certainly intends to stand behind Trump on pretty much all issues, and Mexico is no different. According to The Daily Mail, Pence spoke to CNN ahead of Trump's impromptu trip to Mexico City in August, referring to Mexico as the United States' "neighbors to the south," and said that the fact that Trump was willing to drop everything to meet with Mexican President Pena Nieto was "a glimpse ... of the kind of president that Donald Trump will be."
Pence also spoke diplomatically when asked about the fact that President Nieto had previously compared Trump to Hitler and Mussolini, saying, "I think President Pena Nieto has actually walked that language back. I think he said he was referring to philosophical points." But despite his friendly rhetoric towards Nieto and Mexico, he has also said he fully backs the plan for Trump's wall along the border, telling Fox News in July that "building the wall, establishing border security, has to be job one," according to The Los Angeles Times.
As far as Nieto is concerned though, the wall isn't going to happen — or at least, if it does happen, Mexico won't be paying for it. After Trump's visit to Mexico City, the GOP nominee told reporters in a press conference that he hadn't actually discussed payment of the wall with the Mexican president, according to ABC News, despite having made it very clear in his speeches that he plans on making the Mexican government foot the bill. Nieto, on the other hand, later tweeted "at the beginning of the conversation with Donald Trump, I made it clear that Mexico will not pay for the wall." Nieto also told Mexican media that he thought Trump's position was "a threat to Mexico," and that the Mexican people were "very insulted," according to CNN, though he added that he was "sure that [Trump's] genuine interest is to build a relationship that will give both of our societies better welfare."
With Nieto and Trump offering two different versions of the "who pays for the wall" conversation, Pence, unsurprisingly, has remained fairly neutral. In an interview with NBC's Meet The Press, Pence stopped short at offering an explanation about exactly how he thought Trump was going to get Mexico to pay for the wall, but suggested it could have something to do with trade:
The United States of America is the most powerful economy on the face of the Earth. Access to our economy is enormously valuable to Mexico and every other country in the world.
Pence also said that, "the one thing Donald Trump knows is how to do a deal," throwing his support behind his running mate's negotiation skills as a sign that he'll be able to make a Mexico-funded wall happen, whether Nieto says it will or not.
Another issue Pence is remaining characteristically non-specific on is immigration, and whether Trump really does plan on deporting more then 10 million undocumented individuals currently in America, as he originally promised to do. Pence's take? It depends. Though he was careful to note that "there are people in different circumstances in that category," suggesting the issue of deportation is more nuanced than perhaps Trump made it seem, he still took a hard line against undocumented immigration, telling Meet The Press,
We're going to enforce the laws of this country. We're going to make sure that we essentially end illegal immigration once and for all. And when all of that happens, then, as a nation, he said we can give consideration to how we resolve issues around those that remain. We'll do it humanely. We'll do it with the compassion of the American people.
Overall, Pence's position isn't entirely surprising. As Trump's potential vice president, he pretty much has to agree with his platform and positions, but is clearly trying to be careful not to speak on his behalf. Unfortunately, so far that approach has meant that voters haven't really been given a whole lot of information about Pence's views at all — they are often so diplomatic as to not be saying much at all — which can be concerning, given that he could theoretically end up running the country.
The good news though, is that Pence will soon be expected to get specific and put weight behind his words, as the vice presidential debate is fast approaching. Both Pence, and Democratic vice presidential nominee Tim Kaine will be facing the nation Tuesday to discuss the issues, and to communicate to voters why they — and their respective running mate — would be the best choice when Americans head to the polls in November. And given how much attention it has been given during the campaign, it wouldn't be surprising if once again, Pence is asked about the wall.