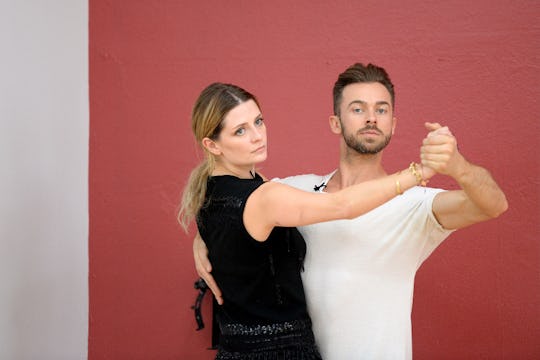 ABC/Aaron Poole
Does Mischa Barton Dance? The 'DWTS' Star Has Been Training Hard
Professional dancing is not for rookies. That's why it's worth wondering if former The O.C. star, Mischa Barton, knows how to dance at all, or if she'll be starting from scratch during Dancing With The Stars's big premiere on Monday night. The contestant has been busy blogging about her experience on the competition for People of late, and although she admits to having taken ballet lessons as a kid, the actress also confessed that she's been nervous about the whole experience from the get-go.
For Monday's DWTS premiere, Barton and partner Artem Chigvintsev are doing a tango, according to her People blog, but according to the actress, it wasn't easy going. Barton wrote that during rehearsals, Artem would often show her a sequence and just "expect" her to pick it up — and she would "start laughing because it was so overwhelming."
But that doesn't mean that she isn't taking this seriously. She shared that her partner didn't got easy on her either — in fact, Barton wrote, he's been a little bossy. "I don't mind that he's a little hard on me because I know that means he's taking this seriously just like I am," she wrote. "It's nice to work with someone who is as committed to their career as I am." That said, he also told her that he's been with partners who are fine during rehearsals and then just forget everything on stage. (Fingers crossed that the same thing doesn't happen to Barton.)
To stay in shape, Barton has been keeping up with yoga and trying to remember to just "breathe and relax," according to a recent Instagram post. She also thanked the people in her life for the support they've given her and even hinted at a new relationship in the works. The intrigue, right?
Barton has been keeping herself busy since saying goodbye to The O.C. in 2007, opening her own boutique in London, landing some acting gigs (most recently scoring a role in the Bulgarian film Malevolent), and doing charity work. However, according to E! News, it seems that ABC has been itching to drop Barton back into the public spotlight for some time now, asking her several times to join DWTS before the actress finally gave in earlier this year. Barton told the news outlet that she was looking forward to the challenge as well, adding,
They've asked me for many years and it just wasn't working with my schedule and it just wasn't the right time. I just like staying busy and it's fun training and why not? It's a challenge and it's a nice thing to do for a second and see how you do!
Even if Barton doesn't really have that much professional dance training on her resume, it sounds like her team spirit and Artem's coaching technique could take the pair far this season.