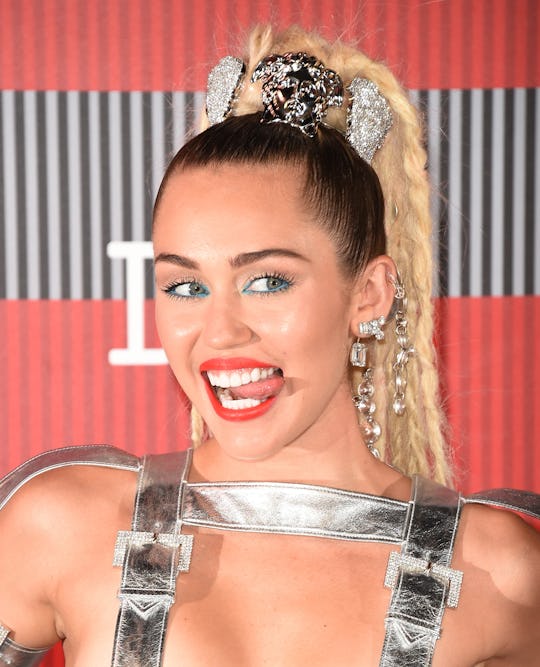 Jason Merritt/Getty Images
Does Missy Elliott Slam Miley Cyrus in 'WTF'? The New Single Sure Seems To Call Out The Singer
Hip-Hop star, producer, and music innovator Missy Elliott is back, you guys. It's been seven years, but Elliott has finally returned with a single and video that will make fans realize exactly how much we've missed her. On Thursday, Missy Elliott launched a brand new video for her long-awaited single "WTF (Where They From)," and it does not disappoint. I fully predict it will be on your cardio playlist by the end of the month. But if you haven't heard by now, the song itself has everyone talking about its lyrics — including some not-so-subtle lines that have everyone wondering if "WTF" might actually be calling out Miley Cyrus.
But let's back up for a second, because there's a lot going on in the vid itself. For starters, the video is as spectacular and wild as everything else we love from Elliott. I mean, I watched several times and had to dance in my chair every single time. Elliott collaborated with Pharrell Williams and longtime friend, director Dave Meyers for her latest video. You might not know Meyers by name, but you certainly know his work. He's the man who directed almost all of Elliott's masterpieces: "Get Ur Freak On," "One Minute Man," "Work It," "Gossip Folks," and "Lose Control," to name a few. And the video for "WTF" is classic Misdemeanor: shiny suits, crazy makeup, puppets (yes, puppets) and a good bit of twerking.
So yea, I don't know about you but I've already cancelled every plan for the day that doesn't include watching Missy Elliott's new video. Every bit of the song is addictive, even the hook where Elliott appears to call out the pop star "credited" with bringing twerking to the mainstream. Though she's never mentioned by name, it really sounds like Missy Elliott is calling out Miley. Just consider the hook:
The dance you doing is dumb/ How they do where you from/ Stickin' out your tongue girl/But you know you're too young/ A bunch of girls do it and the shit looks fun/ That's how they do it where we from/You know it don't start till one/ That's how they do it where they from​
Say what you will, but that sure sounds like Elliott is offering Cyrus a bit of a lesson — or at least some friendly advice. If Elliott is indeed slamming Cyrus in the hook for "WTF," she wouldn't be coming from left field. Cyrus has received ample backlash from rap fans and fellow artists for using black women's bodies and elements of black culture as props for her performances without actually supporting black artists. Who could forget when Miley called Nicki Minaj's (valid) VMA critique "selfish"? Or how Cyrus wore dreadlocks at the 2015 VMAs, but stayed silent when African-American actress Zendaya was insulted for wearing the same style.
With more than 20 years in the industry (and more than a dozen music awards including several Grammys) Elliott knows how to produce a dance smash, and it looks like she's done it again. Thankfully, she also seems to be willing to add her considerable voice to the others calling out cultural appropriation and 'white feminism' in the music business.
If that's true, it'll be just one more reason we should all be excited that Missy is finally back.
Image: Jason Merritt/Getty Images