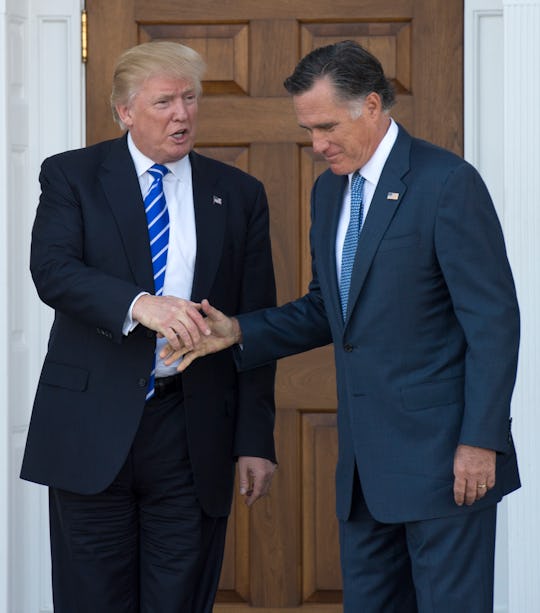 DON EMMERT/AFP/Getty Images
Does Mitt Romney Want A Position In Trump's Cabinet? The Politicians Met On Saturday
In last night's episode of Saturday Night Live, the cold open imagined a meeting between President-elect Donald Trump and Mitt Romney. After shaking hands for a few minutes, both men agree that they can't work together. But in reality, it's a much different story — Romney and Trump met as scheduled on Saturday, in an appointment much of the nation had been buzzing about for days prior. So does this mean that Mitt Romney wants a position in Trump's Cabinet? In spite of Romney saying some harsh words about Trump in the past, it looks like the two could very well do more than shake hands and go their separate ways.
Romney and Trump met together on Saturday in private in "another wild 2016 twist," according to CNN. This meeting could not come at a more perfect time — currently, Trump and his White House transition team are meeting with people to select who will fill the roles in his Cabinet. The transition team has been diligent in filling these roles so far in the past two weeks, with many people already confirmed to different positions. But where would Mitt Romney fit into Trump's White House transition for the next four years? According to CNN, Romney and Trump "discussed the job of secretary of state" during the meeting — and many believe Romney might possibly take the job.
But does Romney actually want a position in Trump's Cabinet? A Cabinet that has already been critiqued to the nth degree and will face even more criticism for the years to come? Romney did not let on that he wanted the job, making this brief statement about the meeting over the weekend:
We had a far-reaching conversation with regard to the various theaters in the world where there are interests of the United States of real significance. We discussed those areas and exchanged our views on those topics.
While Romney's own statement makes clear that a secretary of state position is definitely possible, it also clarifies that Trump's and Romney's views on the "various theaters in the world" are completely different — and that might be an understatement.
According to The Washington Post, Romney and Trump have different views on the U.S.'s relationship with Russia. And lest we forget, Romney harshly criticized Trump on his foreign policy stances less than one year ago — which makes it very hard to believe the two men can see eye to eye on anything. As Romney said at the press conference in March,
Donald Trump tells us that he is very, very smart. I'm afraid that when it comes to foreign policy he is not very, very smart.
In that same news conference, Romney added:
His domestic policies would lead to recession. His foreign policies would make America and the world less safe. He has neither the temperament nor the judgement to be president. And his personal qualities would mean that America would cease to be a shining city on a hill.
Romney's harsh critiques of Trump in the past would indicate that he wouldn't actually want to work alongside Trump. However, in such a widely panned Cabinet, maybe Romney could actually give the Trump administration and the United States a more reliable, steady voice on which to lean. Either way, Americans will find out whether the two can put aside differences soon enough.