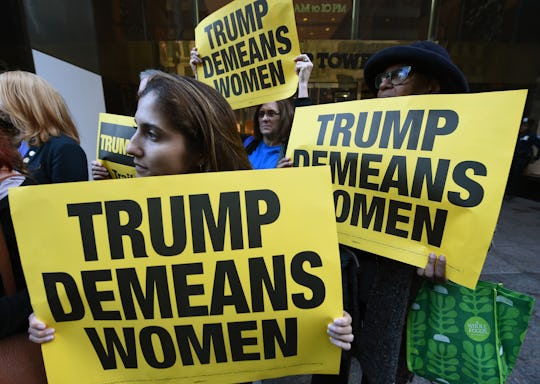 TIMOTHY A. CLARY/AFP/Getty Images
Does Natasha Stoynoff Still Work At 'People'? She's Breaking Her Silence
Since the release of Donald Trump's 2005 lewd recorded conversation about women, in which his supposed actions described sexual assault, a number of sexual misconduct allegations against Trump have either publicly resurfaced or have made been public for the first time. Natasha Stoynoff, a former writer at People magazine, has recently broke her silence about a troubling experience in 2005, in which she alleged Trump sexually assaulted her. Does Stoynoff still work at People? No, but the magazine is helping to tell her story.
One week ago, People published a story, written by Stoynoff, in which she detailed the moments she was allegedly attacked by Trump. Romper reached out to Trump's campaign regarding Stoynoff's allegations, but have not yet received a response. A spokesperson for Trump told People:"This never happened. There is no merit or veracity to this fabricated story."
Stoynoff, who was on the Trump beat for the magazine, was working on a cover story on Trump and his then-pregnant wife, Melania, at Trump's Mar-a-Lago estate in Florida. Stoynoff wrote that Trump sexually assaulted her once they were alone together in a room at the Florida mansion:
...When we took a break for the then-very-pregnant Melania to go upstairs and change wardrobe for more photos, Donald wanted to show me around the mansion. There was one "tremendous" room in particular, he said, that I just had to see...
We walked into that room alone, and Trump shut the door behind us. I turned around, and within seconds he was pushing me against the wall and forcing his tongue down my throat.
Stoynoff's experiences eerily reflect some of Trump's remarks in the recorded conversation with then-host of Access Hollywood Billy Bush. Trump can be heard saying he kisses women he deems beautiful, without waiting, and that his celebrity status allows him to "do anything" to women like "grab them by the p*ssy." Trump has since denied groping allegations, but Stoynoff drew comparisons to the recorded conversation and her experience at Mar-a-Lago – she noted that the alleged sexual assault was around the time of Trump's "now infamous conversation with Billy Bush."
People has since published an article highlighting six people who corroborate Stoynoff's story. One person is Paul McLaughlin, Stoynoff's former journalism professor, who says Stoynoff called him and told him about the troubling encounter the night it happened.
"She wasn't sure what she should do," McLaughlin said in an interview with People. "I advised her not to say anything, because I believed Trump would deny it and try to destroy her."
In Stoynoff's article, she described feeling afraid, ashamed, and blamed herself for the alleged attack, emotions that are consistent with how many sexual assault survivors feel. Trump's response? Apparent objectification, and misogyny by telling a crowd at a campaign stop to "look at her" and "look at her words" to discern whether her allegations are true.
In the midst of an already extremely contentious election cycle, the last thing society needs is for sexual assault accusers to feel even more discouraged from coming forward. Rape culture continually proves to be extremely dangerous.