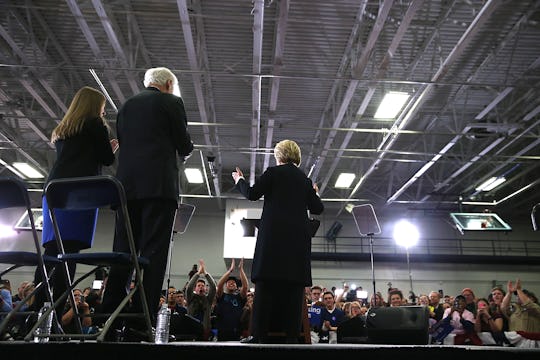 Justin Sullivan/Getty Images
Does New Hampshire Mean Hillary Clinton Will Lose? That Depends On Her Strategy Going Forward
Oh, what a difference a week makes: After barely eking past her Democratic opponent in Iowa, former Secretary of State Hillary Clinton lost the New Hampshire primary to Vermont Sen. Bernie Sanders on Tuesday night. With 68 percent of precincts reporting at press time, Sanders had a nearly 20 point lead over Clinton. Does her loss in New Hampshire mean Clinton will lose the nomination? Right now — only one state into the long primary process between now and party nominations in July — it's still too early to tell.
What we do know is that in order for Clinton to succeed after New Hampshire, she's going to have to make major changes to her current campaign strategy. On Monday, Politico reported ahead of the primary that Clinton was considering a "staff shake-up" following New Hampshire. Clinton herself fired back at the Politico piece later that same day in an interview with Rachel Maddow, questioning the veracity of Politico's sources. Clinton did note however, that she will "take stock" of the current situation. Clinton continued:
We're moving into a different phase of the campaign... So, of course it would be malpractice not to say, "OK, what worked? What can we do better? What do we have to do new and different that we have to pull out?"
And yet, within minutes of the New Hampshire primary being called for Sanders, Robby Mook, Clinton's Campaign Manager, released a memo Tuesday night stating that Clinton's New Hampshire loss was "an outcome we've long anticipated." Politico posted Mook's memo in full — which outlined a four-point strategy that will incorporate a larger "modern, data-driven operation" to "turn voters out and win the most possible delegates." This strategy includes comprehensive plans for a more "analytics-based approach," more GOTV efforts, the "targeted use of the right campaign surrogates" (read: "Hey Bill, it's go time"), and reach-optimized ad messaging.
This line from Clinton's concession speech takes on a deeper meaning when you stack it up against Mook's memo:
The common denominator throughout the memo? March. (The memo itself was even titled "March Matters.") Mook devoted just over 1,100 words to reiterate that despite the "anticipated" split between Iowa and New Hampshire, the nine primaries coming up in March are all a numbers game. In order to maximize the number of delegates backing Clinton, her campaign will refocus its efforts exactly where they can get the greatest delegate bang for their buck. Mook elaborated:
It's important to understand why the campaign is investing so much time, energy and resources in states with primaries and caucuses in March. The reason is simple: while important, the first four states represent just 4% of the delegates needed to secure the nomination; the 28 states that vote (or caucus) in March will award 56% of the delegates needed to win.
...The nomination will very likely be won in March, not February, and we believe that Hillary Clinton is well positioned to build a strong – potentially insurmountable – delegate lead next month.
It's not surprising that Clinton's campaign would shake off a New Hampshire loss with an aggressive strategy for future primaries. What is surprising is that her campaign intends to use the same strategy that sunk New York Mayor Rudy Giuliani's 2008 presidential bid.
Giuliani too opted not to campaign in smaller states with early primaries and fewer delegates: His strategy was to net as many delegates as possible and so his campaign focused its efforts solely in states with the largest delegate gains — which were held later in the primary season. After losing Florida — his campaign's high-stakes wager that simply didn't pan out — Giuliani was forced to suspend his efforts less than a month into the 2008 primaries.
Apparently, Clinton's campaign believes her odds must be better than Giuliani's. As Tuesday's primary revealed, she has more of a fight ahead of her than perhaps her campaign realized after Sanders' impressive showing in New Hampshire — no matter how "anticipated" a Sanders victory might have been.
Even though we're only one week into the official start of the primary season, the New Hampshire primary — and more specifically Clinton's risky decision to emphasize those states with the highest numbers of delegates later in this season — could very well be looked back on as the nail in her campaign coffin. We'll all just have to wait and see if those numbers add up to win Clinton the Democratic nomination.