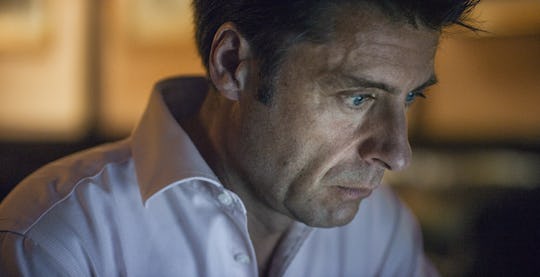 Netflix
Does Nick Pisa Still Work For The 'Daily Mail'? The 'Amanda Knox' Star Has A New Job
Although most people went into the Amanda Knox documentary hoping to discover if Knox really was innocent or the villain she's been made out to be, they instead came away with a new person to focus their interest in. No, there isn't Rudy Guede, the man convicted and in prison for the murder case of Meredith Kercher. It was actually the Daily Mail reporter, Nick Pisa, that garnered public outrage for his comments in the documentary. Pisa acts as the media viewpoint in the documentary and doesn't hold back on his opinions about the case or how the media handled the coverage. So, after watching Amanda Knox, you may be wondering if Nick Pisa is still working for the Daily Mail.
Although Pisa is no longer writing for the Daily Mail, he is still a journalist. Currently he's writing for The Sun, where he actually wrote an article about the Amanda Knox documentary to "tell his side of the story." Pisa doesn't mention the criticism that he's received since the documentary release, but the article definitely seems to be his defense against the questionable comments he made in the documentary. Beginning with his description of Kercher's murder, Pisa upset viewers from the very start of the documentary.
"A murder always gets people going," Pisa stated. "A bit of intrigue, bit of mystery, a whodunit. And we have here this beautiful picturesque hilltop town in the middle of Italy. It was a particularly gruesome murder: throat slit, semi-naked, blood everywhere. I mean, what more do you want in a story?"
To make matters worse, Pisa then continued by comparing excitement over his exclusive front cover story about Kercher's autopsy report to "having sex." His comments about journalistic duty to research and report also rubbed people the wrong way.
"We are journalists and we are reporting what we are being told," Pisa said in the documentary. "It's not as if I can say, 'Right, hold on a minute. I just wanna double check that myself in some other way.' I mean, goodness knows how. And then I let my rival get in there first before me, and then, hey, I've lost a scoop."
This not only outraged viewers but also other journalists who completely disagree with Pisa's stance on the subject.
Pisa has since made his Twitter account private following the release of the documentary — although there's no way of knowing if this is mere coincidence. With that said, based on his article in The Sun, he doesn't regret any of the things he said in the documentary and stands by them.
You can hear Pisa's opinions yourself in the Amanda Knox documentary, now streaming on Netflix.