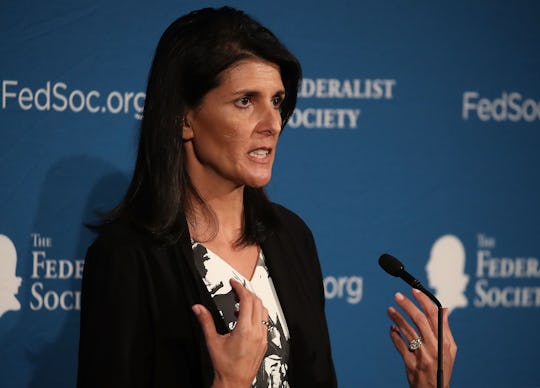 Mark Wilson/Getty Images News/Getty Images
Does Nikki Haley Have Foreign Policy Experience? Trump Tapped Her To Be US Ambassador
Another day, another President-elect Donald Trump nomination or appointment. Since Trump's election victory, people across the country have been closely watching – or at times, fearing – who Trump will appoint to his Cabinet. Between Alabama Sen. Jeff Sessions and former Breitbart chairman Steve Bannon, many have criticized Trump for selecting white men who have notably had troubling histories with racial and religious discrimination. On Wednesday, Trump announced he has nominated South Carolina Gov. Nikki Haley to be the U.S ambassador to the United Nations — a stray from his pattern of selecting only white men to his Cabinet thus far. But does Haley have foreign policy experience? Her experience with foreign policy is limited.
As Politico reported, Haley hasn't served in federal government. And as her biography listed on her government website, her positions in government include serving as a state House member in South Carolina before taking office as governor in 2011. Haley, who is the daughter to Indian immigrants, is married to Michael Haley, a combat veteran and captain in the Army National Guard.
In a statement released Wednesday, Trump insisted Haley is a "proven dealmaker," PBS reported.
Governor Haley has a proven track record of bringing people together regardless of background or party affiliation to move critical policies forward for the betterment of her state and our country. She is also a proven dealmaker, and we look to be making plenty of deals. She will be a great leader representing us on the world stage.
A 2005 ABC News article described the U.S ambassador position as someone who primarily represents the United States' interests, and who keeps "the U.S. State Department informed of events at the United Nations," and "makes recommendations to the State Department and the president as to what course of action the United States should pursue."
Haley has accepted Trump's nomination, but the position would require confirmation by the Senate. The South Carolina governor released a statement on Wednesday regarding the nomination. A clip of the statement read:
...When the President believes you have a major contribution to make the welfare of our nation, and to our nation's standing in the world, that is a calling that is important to heed. I will remain as governor until the U.S Senate acts affirmatively on my nomination...
Republican South Carolina Sen. Lindsey Graham released a statement speaking positively to Haley's foreign policy experience — or international affairs experience he believes is applicable. Graham pointed to her experience working with the "largest international business firms" in the world, and her husband's military service in Afghanistan, The Washington Post reported.
Throughout Trump's campaign, Haley was notably critical of the president-elect and publicly took aim at his Muslim ban proposal last year December, among other criticisms. According to The Post, Haley met with Trump at Trump Tower in New York City last Thursday.