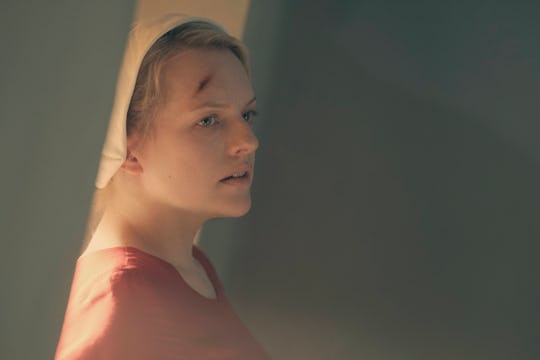 George Kraychyk/Hulu
Offred's Fate In 'The Handmaid's Tale' Was Left Uncertain
When the first season of The Handmaid's Tale concluded, Offred (a.k.a June) was being taken out of the Waterfords' home and carted off to an unknown destination in a black van. That led many viewers to wonder (or perhaps hope) that she was finally finding a way out of Gilead. But does Offred escape in The Handmaid's Tale? It's a nice thought, but so far it seems fairly unlikely.
The ambiguity of Offred's escape was a big part of the Margaret Atwood novel that the show is based on. The book ended with Offred being loaded into the van and taken away; while it never revealed what happened to her, the fact that her story survived decades later indicated that she had made it out of Gilead at some point. The Season 1 finale embraced that uncertain conclusion, keeping things vague enough that fans could speculate about all kinds of possibilities: maybe Offred was being secretly taken to the Canadian border where she could be free, but a darker fate could have also awaited her. After finding out about her lawbreaking, the police force of Gilead might have been arresting her and bringing her in for punishment.
Based on the trailers for Season 2, that seems to be the most plausible outcome.
Fans probably could have guessed that Offred wouldn't make it out of Gilead when the show was picked up for a second season. The Handmaid's Tale is all about exploring the plight of women in this particular dystopian future, and Offred is the key point of view character. It would be hard to explore Gilead through her perspective if she wasn't there anymore. That day could always come in the future, but right now it looks like she's stuck right where she is. Still, according to showrunner Bruce Miller, it was "difficult" to strike the right balance with Offred's Season 1 ending. He told Vanity Fair that it was tough because:
...I think because in some ways one of the hallmarks of the book is that the ending is a bit unsatisfying on purpose. It ends as such a mystery. And so, as someone who's adapting that world to television, you want to follow that. But you don't want to be so frustrating that people throw their TV, slash laptop, slash phone out the window.
The official trailer for Season 2 catches up with Offred in the van while she contemplates the meaning of freedom in voiceover narration. It looks as though initially she remains in Gilead, with Vulture reporting that Offred was indeed arrested at the end of the first season, along with other handmaids who presumably broke the rules. They are corralled for yet another brutal Gileadan punishment in the premiere of the second season, so it seems as though Offred's sudden departure from the Waterfords' was not an act of the resistance to save her. She's still at the mercy of the oppressive government.
However, there are intriguing glimpses that might promise a different future for Offred. There are shots of her sneaking around stairwells and hallways, in one instance with a hammer in her hand that she might wield as a weapon; later on she runs desperately across a field. She's also shown leaving an unknown house in an all-gray outfit that seems at odds with Gilead's color-coded uniforms. At the very end of the promo, she announces, "My name is June Osbourne. I am free."
While there is no guarantee that June will escape on The Handmaid's Tale, there are plenty of signs that she will attempt it every chance she gets. And if the closing line of the trailer is anything to go by, she will be free at some point. It's just hard to say when.
Check out Romper's new video series, Romper's Doula Diaries:
Watch full episodes of Romper's Doula Diaries on Facebook Watch.