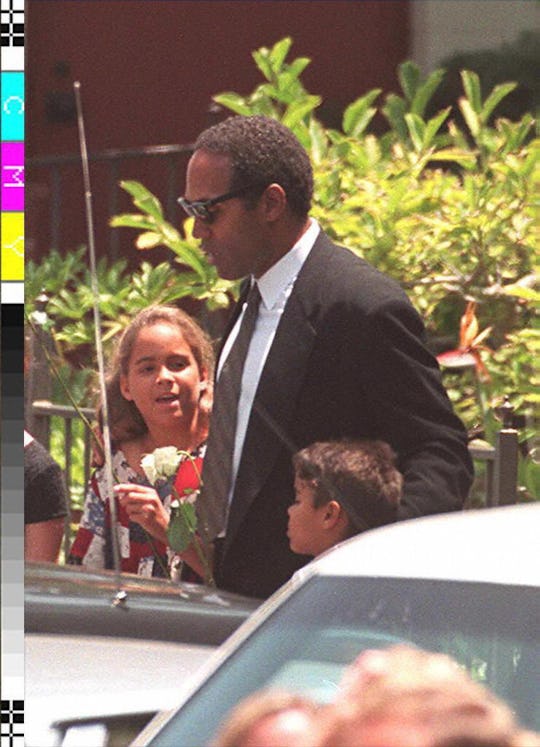 Vince Bucci/Getty Images
Does OJ Simpson Still Talk To His Kids? Their Relationship Is Mysterious & It Should Stay That Way
American Crime Story: The People v. O.J. Simpson premieres on FX on Tuesday night and it is sure to spark tons of discussion. Featuring an A-List cast, the 10-episode debut series will detail the controversial 1995 trial of O.J. Simpson, who was acquitted for the murders of ex-wife Nicole Brown Simpson and Ron Goldman. So far, several people close to the case have spoken out about the case and the show. But no one has heard from Simpson's kids, who tragically lost their mother and now have a TV show to remind them of it. Does O.J. Simpson still talk to his kids? The have stayed out of the press and away from the new series, and it's obviously a calculated, understandable move.
Though he wasn't convicted for murder, in 2008, Simpson was convicted of kidnapping and armed robbery, ABC News reported. Simpson is serving a 33-year sentence at Lovelock Correctional Center in Nevada. Norman Pardo, Simpson's friend and former manager said he only gets a call from Simpson every few months — an indication that Simpson really isn't talking to much of anyone. Pardo told ABC News in June 2014: "He's a prisoner in prison — there's nothing really. It's sort of depressing."
And the accusation that Simpson is suffering from depression behind bars has grabbed a headline or two over the years. In Jan. 2015, Tom Scotto, another friend of Simpson, told Radar Online that the Heisman Trophy recipient was having trouble coming to terms with prison life. "I spoke to him a month ago. I write him. … He doesn't call that often," Scotto told Radar Online. Scotto also said that Simpson doesn't like to speak with the outside world and that he is struggling to deal with the whole prison, generally.
Brown Simpson and Simpson's children, Justin Ryan and Sydney Brooke Simpson have pretty much stayed out of the public light. However, in July 2014, the pair and other members of the Brown family were sighted at a funeral for their grandfather, Louis Brown Jr. According to the New York Daily News, this was the first time Justin and Sydney were seen in years — so it stands to reason that they haven't visited their father in prison. And the funeral probably sparked painful memories, as Louis and Simpson were tied up in a custody battle for the kids following the murder trial, the Daily News also pointed out.
However, there is more evidence that the children don't speak to Simpson. In Jan. 2011 a source told Bossip that Sydney has forgiven her father. "Sydney still believes that her father murdered her mother, but she wants to make peace with him and tell him that she forgives him," a family friend revealed. "She said, 'Murderer or not, he's still my father and he's the only parent I've got. I can't abandon him.'" Furthermore, the insider claimed that Simpson told Arnelle Simpson, his daughter he had with Marguerite Whitley, that he missed Justin and Sydney a lot. Romper has reached out to Simpson's legal team regarding Simpson's alleged involvement in Brown Simpson's murder.
So, it appears that both Sydney and Justin are trying to move on with their lives, which is understandable. And whether they are talking to their father is something that is probably best left a private matter. Meanwhile, the public is sure to get a new insight into the Simpson case when The People v. O.J. Simpson airs.