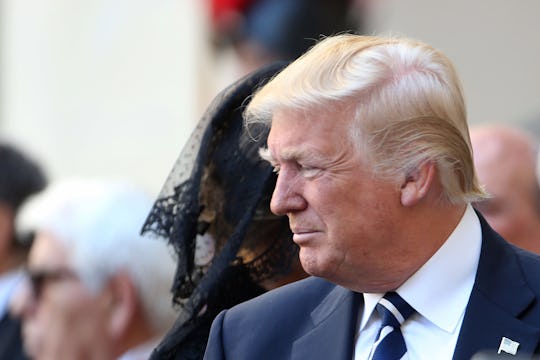 Franco Origlia/Getty Images News/Getty Images
Does Pope Francis Like Trump? They Disagree On Most Issues
In the past week, President Donald Trump has met with Arab leaders in Saudi Arabia, and was photographed a day later leaving a prayer note inside Jerusalem's Western Wall. On Wednesday, Trump continued his overseas tour with a stop at the Vatican, where he met with the pope. But does Pope Francis like Trump? Trump called it "an honor" to meet with Catholic leader, according to The Guardian, but there's no question that the two men are very different — both in their demeanor and their personal beliefs.
In most instances, Pope Francis is known for being a warm and welcoming individual, but from the sounds of it, he was at least a bit uncomfortable ahead of his meeting with the president. The Guardian reported that the meeting "began on an unusually sombre note," while NBC News noted that the pope "appeared subdued and stone-faced," standing beside a beaming Trump prior to their private 30-minute meeting. But even if the two men hadn't already had a history of disagreeing with one another, it wasn't exactly difficult to notice their differences — even simply in the way they traveled. According to ABC News, the meeting occurred at the Vatican just after 8 a.m. local time, but while Trump arrived in a "lengthy motorcade," the pope — known for eschewing the usual pomp and circumstance of the papacy in favor of a simpler life — pulled up in a Ford Focus.
Of course, it's not entirely surprising that the meeting began as an awkward one. Back when Trump was still a presidential candidate, Pope Francis publicly criticized him for his desire to build a wall along the U.S.-Mexico border, according to The Independent, and argued that someone who wanted to do such a thing was not acting in line with Christianity. Predictably, Trump didn't take the comment well, and hit back with a statement in Feb. 2016, in which he called the pope "disgraceful" for questioning his faith. He also called Pope Francis "a pawn" who "doesn't see how Mexican leadership is outsmarting ... our leadership in every aspect of negotiation."
Perhaps the most scathing aspect of his statement though? When Trump discussed ISIS, and the possibility of an attack on the Vatican. He said,
If and when the Vatican is attacked by ISIS, which as everyone knows is ISIS's ultimate trophy, I can promise you that the Pope would have only wished and prayed that Donald Trump would have been President because this would not have happened. ISIS would have been eradicated unlike what is happening now with our all talk, no action politicians.
Other issues the two have disagreed upon? According to The Washington Post, Pope Francis has long advocated compassion for asylum seekers. In 2016, he was photographed washing the feet of migrants in a refugee camp in Rome, and according to Reuters, he also flew three Syrian refugee families to the Vatican on his private plane during a visit to Greece as a "gesture of welcome." Trump, on the other hand, has specifically introduced executive orders on immigration that attempted to temporarily suspend all refugee admission into the United States, according to CNN.
And as for their personal values, it seems Trump and Pope Francis couldn't possibly hold two more opposing views. Pope Francis, for one, has championed the notion of living as humbly and simply as possible, even turning down a residence in the official papal apartments for a room in the Casa Santa Marta, a Vatican residence designed to house visiting clergy and lay people, according to The Telegraph. In a letter he wrote to an Argentinian priest in 2013, Pope Francis explained that his unorthodox living situation meant he was "visible to people" and that he could "lead a normal life," which involved public morning mass, and "[eating] in the refectory with everyone else."
In 2014, according to The Washington Post, Pope Francis spoke out to criticize what he called the "rather selfish lifestyles, marked by an opulence which is no longer sustainable and frequently indifferent to the world around us, and especially to the poorest of the poor." And since then, he's also taken steps to actually help: according to The Guardian, Pope Francis recently opened up Lavanderia di Papa Francesco, a free laundromat for the poor in a former hospital near the Vatican, and two years prior, he also opened a shower and barber service next to St Peter's Basilica. And according to PBS, even the local McDonalds hasn't been able to avoid the pope's call for charity: amid controversy surrounding it's proximity to St. Peter's Basilica, the restaurant chain announced in January that it would provide a thousand free lunches every Monday to local homeless individuals.
Trump, on the other hand, has built his fortune as a businessman — and specifically as a real estate developer of the kinds of luxury hotels and properties that the pope would likely consider to be unsustainable and unnecessarily opulent. As president, he has spent considerable time visiting his own properties, especially his private Florida resort, Mar-a-Lago. According to The Independent, it's been estimated that in his first 100 days in office, Trump's travel expenses may have cost taxpayers around $20 million.
By the end of Wednesday's meeting though, Pope Francis appeared to have warmed somewhat to Trump and his family (First Lady Melania Trump joined her husband on the visit, as did Ivanka Trump, and her husband Jared Kushner, according to The Guardian), and in a statement following the visit, the pope said he considered the discussion to be "cordial" and that "satisfaction was expressed" relationship between the United States and the Vatican. Pope Francis also encouraged the notion of "serene collaboration between the state and the Catholic church in the United States," which he said was "engaged in service to the people in the fields of healthcare, education and assistance to immigrants."
But if Pope Francis might still have reservations about Trump himself, it did appear that he felt much more welcoming to the First Lady. In a video clip from his meeting with Melania Trump, the pope could be seen asking her if she ever fed the president "potica," a Slovenian dessert that is reportedly a favorite of the pope's. Somewhat awkwardly, a translator then asked Melania, "What do you give him to eat?" which made for a pretty entertaining exchange:
While it's unlikely that Trump and Pope Francis will become fast friends anytime soon, Trump has at least seemed to have changed his tune towards the church leader now that he's become the president. It's not clear what the two discussed during their private meeting, but if the pope did mention compassion and humility, hopefully it will have been a message that Trump might actually take to heart.