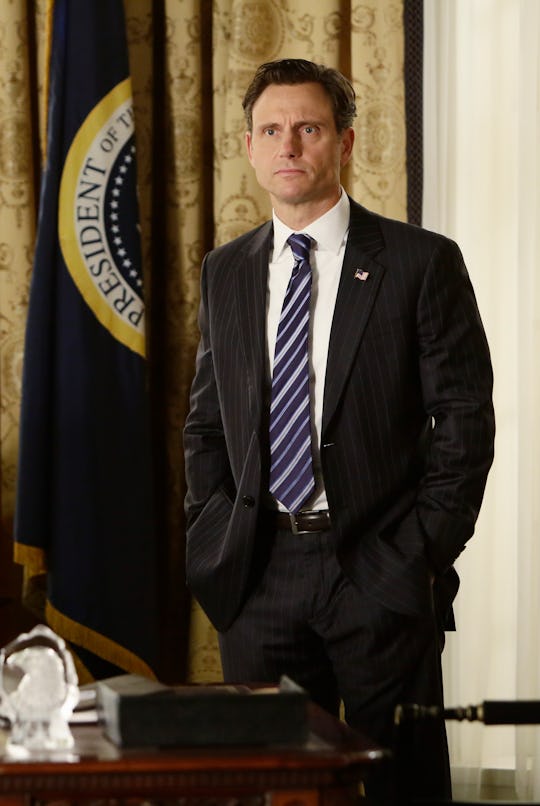 Nicole Wilder/Disney ABC Television Group/Getty Images
Does President Grant Have A New Love Interest On 'Scandal'? Here's What We Know So Far
Up until now in Scandal, President Fitz Grant has been with one of two people: his wife, Mellie, or his mistress, Olivia Pope. On Thursday's episode, however, it looks like this might be changing soon. A new love interest for President Grant (aka Fitz) appeared at the very end of the episode, hinting a potential big changes to come.
Tony Goldwyn, who portrays President Grant, spoke to HollywoodLife.com recently about the status of Fitz's love life. He said that Fitz is "addicted" to Olivia. That feeling, however, is no longer reciprocated. Olivia is now in a sort-of relationship with her former lover, Jake.
"I always have hope," Goldwyn said, commenting on Fitz and Olivia's relationship, "Right now, it's looking pretty bad. I think he deserves a new love interest. I think Fitz has had a pretty rough go of it of late." Goldwyn also spoke to Parade about the second half of this season, describing Fitz as being in "tremendous pain" that he had been pushed aside.
That certainly makes sense for the character. Not only are Olivia and Fitz over, but the President's First Lady, Mellie, has also left him. Enter Fitz' new love interest, journalist Lillian Forrester, played by Annabeth Gish. Forrester enters the White House as a reporter writing a long feature on President Grant's last months in office.
In addition to being in love-pain, Goldwyn described Fitz as being fixated on leaving a White Houe legacy. His presidency is coming to a close, and he wants to accomplish what he initially set out to do all those years ago. Forrester's presence may be an element of that: documenting Fitz's final months as the president and his potential achievements.
During their initial meeting, Forrester had no hesitations revealing that she had a crush on the president. In return, he asked her out on a date. Of course, this was during the final moments of the episode, so we will have to wait to see what becomes of this. What we do know, however, is that Forrester will be a recurring character – so we have not seen the last of her.
Is Fitz finally moving on with his life, as Olivia and Mellie appear to be? Goldwyn would argue that he is an "addict" – at least for Olivia – so maybe not yet. Considering how much baggage Fitz has with both Olivia and Mellie, Forrester may not know what she's getting herself into. And as for Forrester's professional integrity as a journalist? It will certainly be interesting to see how Fitz and Forrester's relationship develops in future episodes.