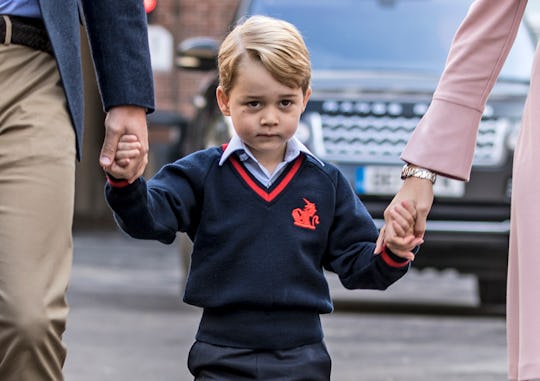 WPA Pool/Getty Images Entertainment/Getty Images
Given Recent Threats On Prince George's School, His Extensive Security Detail Makes Perfect Sense
Last week, a man reportedly pleaded guilty to plotting various terrorist attacks throughout the United Kingdom, including one at Prince George's elementary school in London, according to CNN, and that's certainly terrifying to hear for everyone involved. Given the possibility of danger, it's fair to wonder if Prince George has a bodyguard at school. Or is he on his own during art class?
Perhaps unsurprisingly, Prince George does have loads of security while he is at school at Thomas's Battersea, according to a 2017 report from The Daily Star, a British tabloid. And it's for good reason, too. The little guy has been the target of not just the recent plotted attack last week, but was also a stalking victim last year, as TIME reported.
After that initial incident, Prince William and Kate Middleton reportedly asked for extra security to follow him to school and stick around during the day, according to the same The Daily Star report following the incident. It's unclear whether or not they received increased security or if they kept using the same undercover police for Prince George's school drop-offs and pick-ups, as reported in The Sun.
The Daily Star reported that the royal family allegedly floated the idea of buying a house across the way from the school so that guards could watch Prince George at recess, although there's no indication that that ever happened.
But either way, security for the royals is extensive. In fact, The Mirror reported in 2010 that each royal has five armed guards on each of them at all times, so it's very likely that Prince George has his own couple of bodyguards to escort him to and from school, and spend their day guarding him, much like the American Secret Service does for a president's children, according to Newsweek. According to CheatSheet, the royal family's security bill is paid for by the Metropolitan Police and allegedly costs more than £120 million per year.
Luckily, Prince William and Middleton are intent on accompanying their kids to school as much as possible, which means that the whole family travels via a motorcade with security, according to Metro. Former royal protection officer Simon Morgan told the outlet that the security team has likely figured out a handful of routes that they can change up every day, so that they get Prince George to school on time and also confuse anyone who might be trying to track their movement.
Morgan added, according to Metro, "All schools consist of a lockdown procedure outside arrival and departure hours so it's quite an easy environment for the police team to control themselves." So Prince George has a lot of people watching out to make sure that he stays as safe as possible, no matter where he is.
Prince William and Middleton have taken many measures to keep the cost of their security down while also making sure that their kids are safe. For example, when they moved back to Kensington Palace in London so that the kids could go to school, Marie Claire reported that they asked the groundskeepers to plant conifer trees all around their particular home to avoid nosy neighbors, pesky paparazzi, or worse, someone who wants to hurt the family.
Gardeners planted conifer trees, which will grow up to 40 feet high, around the 820 feet of edges of the palace. So no one can try to sneak a picture or anything else, as reported by Marie Claire.
It's incredible that people would want to target not just the royal family, but the littlest members of the family to boot. The self-professed ISIS supporter who pleaded guilty last week had shared hundreds of propaganda messages inciting terror, according to The Guardian. But one of them was reportedly of Prince George's school, the address, and the message, "Even the royal family will not be left alone. School starts early," according to USA Today. The Guardian reported that he faces a life sentence. Judge, Andrew Lees reportedly told the man, according to The Guardian, "For the past week I have listened to the most disturbing allegations … It is inevitable that you will receive a very lengthy prison sentence and there will be a consideration of a life prison sentence."
But just because one threat is over doesn't mean that there won't, sadly, be more. Luckily, Prince George has tons of security both at home and while he's practicing maths during the school day.