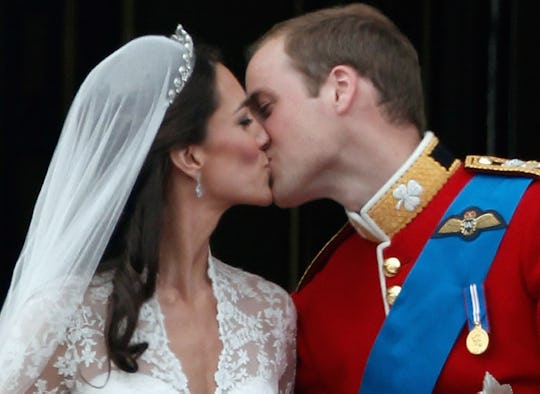 Christopher Furlong/Getty Images Entertainment/Getty Images
Here's Why You Don't See Prince William Wearing A Wedding Ring, In Case You Were Curious
With the royal wedding between Meghan Markle and Prince Harry just weeks away, there are still plenty of tiny details to think about. For example, how are they handling the whole wedding ring tradition? You'd think that looking back at his older brother and whether Prince William wears a wedding ring would provide a bit of insight, but it seems that Prince Harry might not follow in the heir apparent's footsteps on this one.
Recently, it's been reported that the royal groom-to-be, Prince Harry, does indeed plan on wearing a wedding band on a daily basis, according to E! News. Whether or not to wear a wedding band or any symbolic piece of jewelry on every single day is certainly a personal decision, and that seems to be how the royal princes have made their choice on the wedding tradition. In fact, according to TIME, Prince William doesn't want to wear a ring simply because it comes "down to personal preference."
Although his wife, Kate Middleton, currently sports her sapphire engagement ring and a wedding band, her husband of seven years doesn't do the same. A palace aide explained to TIME, "It was something the couple discussed but Prince William isn't one for jewelry. He doesn't even wear a signet ring — and decided he didn't want to."
But with Prince William's young brother, Prince Harry — who will soon marry Markle, an American actress and philanthropist, on May 19 — all signs point to the 33-year-old will opt for a band. As it turns out, according to E! News, Prince Harry "does want to wear a wedding band."
Of course, though, things are done differently in Britain, and as HuffPost reported, plenty of members of the royal family in the United Kingdom don't wear wedding bands, like Prince William. "Prince Philip has been married to the queen for 70 years and never wore a wedding ring," according to HuffPost.
What's more, men in England simply don't usually wear wedding rings, as is somewhat the norm in the United States. Tradition in Britain is simply different than tradition in America. The book Debrett's New Guide to Etiquette & Modern Manners touches on this, according to an excerpt published in The New York Times:
It is customary for the bride alone to sport a wedding ring, and although some brides have adopted the Continental habit of presenting the groom with his own band during the vows, this remains not quite comme il faut.
For Prince William, it's likely that he decision not to wear a wedding band is him simply following tradition of royals before him as well as expressing his personal preference with the custom. And for Prince Harry, wearing a wedding band after he ties the knot seems like something he definitely wants to do, even if it's not what other married royals in his family have done. What's more, as E! News reported, Prince Harry and Markle have already worn matching jewelry in the past, so wedding bands is really just the next step, isn't it?
At the end of the day, what Prince William decides to do with this tradition is his own business. And considering the fact that he and Middleton just celebrated their seventh anniversary and just recently welcomed their third child — a son named Prince Louis — whatever they're doing, ring or no ring, seems to be working just fine for them.
Check out Romper's new video series, Bearing The Motherload, where disagreeing parents from different sides of an issue sit down with a mediator and talk about how to support (and not judge) each other's parenting perspectives. New episodes air Mondays on Facebook.