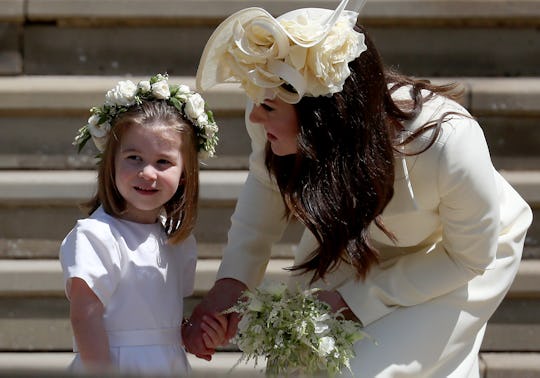 WPA Pool/Getty Images Entertainment/Getty Images
Does Princess Charlotte Have A Nickname? Here Are The Deets
In recent months, there has been a lot of talk about royal names and titles. Probably because Prince William and Kate Middleton welcomed their third child in April, and then Prince Harry married Meghan Markle in May — less than one month later. Leading up to these important milestones, the world was abuzz with predications for the newest royal baby's name. People were also speculating about whether the baby would have the title of "Prince" or "Princess," in addition to the questions surrounding the new titles of Harry and Meghan. As it turns out, the royal family — with all of its prestige, official titles, rules, and formalities — has quite a few low-key names for one another behind the scenes. But does Princess Charlotte have a nickname?
Let's take a closer look. Traditional nicknames for the name "Charlotte" include Charlie, Char, Lotte, and Lottie, as Time pointed out. So far, though, neither Prince William nor Kate Middleton have been heard referring to their daughter as anything but her full first name. That doesn't necessarily rule out any of these nicknames completely, though; the Duke and Duchess of Cambridge have been notoriously private about their children, after all. (After a significant amount of online scouring, I came up empty-handed, if that tells you anything.) So if Princess Charlotte does have a nickname — traditional or otherwise, it seems the Cambridges are keeping it to themselves for the time being.
Still, plenty of other member of the royal family do have known nicknames. Elle reported that Prince George and Princess Charlotte have a pretty darn cute nickname for their great-grandmother. It was actually Kate Middleton who revealed this tidbit of information back in 2016, during a teaser video for a documentary called Our Queen At Ninety. "The Queen was really thrilled that it was a little girl," Kate Middleton said, of Princess Charlotte's birth. "And I think as soon as we came back here to Kensington she was one of our first visitors here. I think she's very fond of Charlotte. She's always watching what she's up to." Middleton continued:
George is only two and a half and he calls her 'Gan-Gan'. She always leaves a little gift or something in their room when we go and stay, and that just shows her love for her family.
Queen Elizabeth has a couple of other known nicknames, Southern Living reported. As a young girl, she couldn't quite pronounce "Elizabeth" correctly — so she referred to herself as "Tillabet." (Awww.) Close friends and family began calling her "Lilibet" as she got older, and some still do today. Another nickname for Queen Elizabeth: Cabbage. Apparently, this was a name her husband, Prince Philip has called her, the publication reported. (Fun fact: It was even used in the series, The Crown.)
And apparently, Prince William couldn't quite say "Granny" as a little boy — so he called his grandmother "Gary" instead, Grazia reported. LOL. I'm pretty sure he's one of the only people in the world who could get away with calling the reigning British monarch Gary.
Camilla, Duchess of Cornwall — who is married to Prince Charles — also has a nickname courtesy of Prince George and Princess Charlotte. The Duchess told Lady Gaga at the 2016 Royal Variety Performance that her grandkids call her "GaGa," OK! Magazine reported. Prince Charles and Camilla reportedly refer to each other as "Fred" and "Gladys," Grazia reported.
Prince William has a few nicknames, himself; he was called "Steve" while attending the University of St. Andrews in Scotland, Southern Living reported. Princess Diana used to call her oldest son "Wombat," which was a result of a trip to Australia when he was young, Grazia reported. Close friends reportedly call him "Wills." And at one point, Kate Middleton has caught referring to her husband as "Babe," according to the publication.
Kate Middleton even had a nickname back in the day, OK! Magazine reported, and it was "Squeak." This was actually the name of one of her school's guinea pigs. (The other was Pip.) Naturally, her sister Pippa earned the nickname "Pip" and Kate was "Squeak."
Prince Harry previously used the name "Spike Wells" on social media — until he was advised to delete them in 2012, after photos of him partying naked at a hotel surfaced, Cosmopolitan reported.
So there you have it! As regal as they may be, the royal family definitely isn't above using nicknames. With that said, Prince William and Kate Middleton haven't freely shared whether their children have any for themselves yet. As Princess Charlotte gets older, the public may learn of a few. (And who knows, she could very well earn one from classmates once she starts school, as her mother did.) But for now, "Princess Charlotte" suits her just fine.