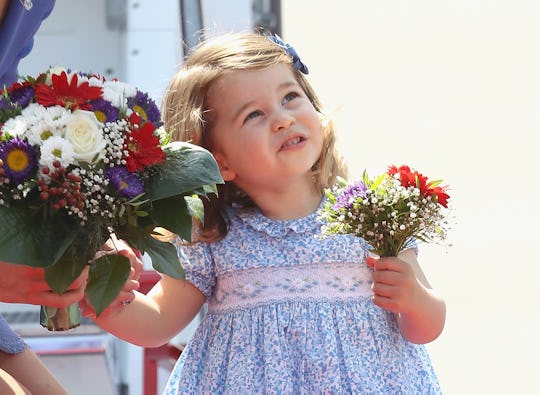 Chris Jackson/Getty Images Entertainment/Getty Images
These Photos Show Princess Charlotte Takes After Princess Diana & It's So Sweet
It's easy to compare Princess Charlotte to her very famous relatives. After all, her great grandmother, Queen Elizabeth II is the Queen of the United Kingdom, her grandfather, Prince Charles, is next in line for the title, and her father, Prince William will one day inherit the throne. So naturally, she has a lot to look up to and be compared to. But people should also be comparing her to her female relatives — like her mom, Kate Middleton, and her late grandmother, Princess Diana. Since Princess Diana was the "people's princess" and her memory continues to live on, surely some are wondering if Princess Charlotte looks like Princess Diana.
Princess Charlotte has spent her whole life in the public eye from the time she was born in 2015. Royal watchers have loved watching Princess Charlotte develop her personality and confidence as she gets older for everyone to see. And although she might be very young, she is already giving people an indication of how she might look and act when she grows up.
Perhaps people can look to Princess Diana, who died in 1997, according to the Telegraph, to get an idea of what side of the family Princess Charlotte might take after and who she might look like when she gets older. Some royal watchers already believe that Princess Charlotte bears a striking resemblance to a young Princess Diana.
When Kensington Palace released photos of Princess Charlotte in January before her first day of nursery school, people immediately began to compare Princess Charlotte to her late grandmother, according to Harper's Bazaar. Not only are they dressed similarly and have the same hairstyle in the respective photos of one another, according to the Daily Mail, but their facial features look very similar.
In side by side photos of Princess Charlotte and Diana, you can see that they share the same face shape, according to Hello! eye shape, and even the same nose. If you might have thought that Princess Charlotte bears a striking resemblance to Queen Elizabeth II, then you'll definitely think that Princess Charlotte looks just like her paternal grandmother.
The proof is in this side by side photo of her with a photo of Princess Diana as a baby.
And you can already see the resemblance between Princess Charlotte and a much older Princess Diana. I think it's their noses that make them look a lot alike.
But Princess Charlotte doesn't even need to bear a resemblance to her late grandmother to keep her legacy alive. In fact, Princess Charlotte carries a bit of Princess Diana with her everywhere she goes with her name — Princess Charlotte was born Princess Charlotte Elizabeth Diana, according to Mirror. Her middle names honor her great grandmother and late grandmother, respectively.
In addition to her name, Princess Charlotte reportedly has the same hobbies as Princess Diana, according to Town & Country — Princess Charlotte loves to dance, just like Princess Diana once did. In March, Prince William revealed that Princess Charlotte "loves dancing" which Princess Diana also loved to do, according to Town & Country. In addition to their hobbies, Princess Charlotte and Princess Diana share a similar taste in pets. Yes, pets. Princess Diana reportedly had two hamsters that she loved while growing up, according to Mirror, and Princess Charlotte reportedly has a hamster of her own named Marvin.
Although Princess Charlotte might have never gotten to meet her late grandmother, it is clear that she takes after her in so many ways — not just in her looks. The memory of Princess Diana and her legacy will continue to live on, most notably in her granddaughter.