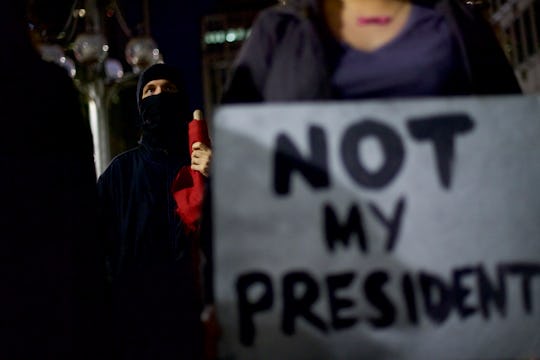 Mark Makela/Getty Images News/Getty Images
Does Protesting An Election Do Anything? It Helps Remind Trump That The World Is Watching
Over the past several days since the election, protesters across the country have taken to the streets to denounce Donald Trump, the now President-elect of the United States. In cities from New York to San Francisco people have been protesting the election results for more than five days, chanting "not my president" and blocking roads and highways. But all of these demonstrations beg the question: does protesting an election do anything? Not exactly. But it does serve to show people both in America and abroad that Trump might have been elected, but many people in this country still reject his policies and will continue to stand up and speak out against them.
The protests are fueled by various policy proposals Trump made during his campaign, notably his promise to deport millions of undocumented immigrants and build a wall along the southern U.S. border with Mexico.
"What we are going to do is get the people that are criminal and have criminal records, gang members, drug dealers, where a lot of these people, probably two million – it could be even three million – we are getting them out of the country or we are going to incarcerate," Trump told 60 Minutes in his first interview since the election, according to The Independent. "Be we're getting them out of the country, they're here illegally."
One demonstration organized by immigration lawyer Noelle Yasso in Manhattan was specifically in response to Trump's immigration stance, according to CNN. Yasso said:
The main purpose is to tell Donald Trump he can't just deport 11 million undocumented people. They're here to stay and we stand in solidarity with them. They're saying, 'Are we going to be deported tomorrow?' People don't know what will happen and they're very scared."
Some of the most intense protests have been staged in Portland, Oregon, where protesters have been marching on highways, stopping traffic and doing their best to make their point by disrupting daily life. One of the primary organizers of the Portland protests is 23-year-old Lewis & Clark Law student Gregory McKelvey, who says the demonstrations are just one way for people to push for progress and deal with their sadness and anger regarding Trump's election.
"Sometimes it comes out as anger but I think most people are just sad that this is our country right now and they're looking for a little bit of hope and I think Portland can be that hope," McKelvey told Portland's KGW. "It's all we got."
Besides taking to the streets in protest, there are other ways to voice your dissatisfaction with the election result: pressure your own Congressional representatives to stand up for causes you believe in. On Twitter, former Congressional staffer Emily Ellsworth tweeted instructions on the best way to get your representative's attention: call them. Skip social media and emails, and just give them an old fashioned jingle.
Ellsworth, a registered Republican who campaigned for Hillary Clinton, told CNN:
Like a lot of people, I've been reeling from the election. So I thought people might like to know how you mobilize and activate individual communities to reach each member of Congress. I just thought I have this knowledge and I did this for six years and it's probably important for people to know what those specific actions are.
Besides phone calls, she also suggests organizing and inviting Congressional staffers to your events, and encouraging like-minded folks to run for office.
The election is over and whether you voted for Trump or not, he will become the 45th American president. No protest will change that — though enough protest (where white people actually physically join) could demand accountability and prevent further action against marginalized communities. But the act of speaking up, being heard, and putting Trump and his administration on notice that the American people are watching is worthwhile, even if no amount of marching can change the fact that we face four years of Trump in the White House.