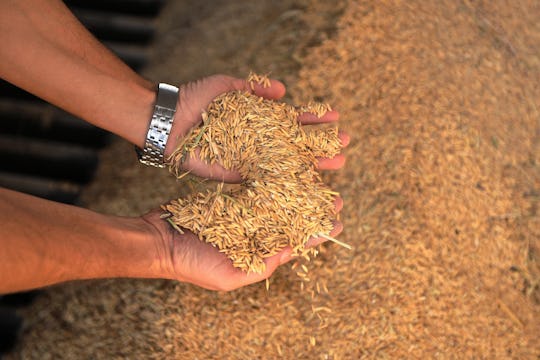 AFP/AFP/Getty Images
Does Rice Cereal For Babies Contain Arsenic? The FDA Set New Regulations
Of all the things you'd expect to find in infant starter foods, the Food and Drug Administration announced Friday that many brands of rice cereal for babies contains arsenic. Or more arsenic than they expected. After testing over 76 samples of infant rice cereal, the FDA found that 78 percent had inorganic arsenic levels above or below 110 parts per billion, leading them to propose a new limit for rice cereals to contain just 100 parts per billion of inorganic arsenic.. To make sure to isolate the rice cereal as the cause of exposure to arsenic, the agency also tested 400 other kinds of infant foods and found low levels of inorganic arsenic in them, leading them to conclude that exposure to the element is coming from the rice product.
So why is there arsenic in your baby's food anyway? It's hard not to think "poison," when you hear the word, but arsenic is naturally present in water, soil, and even air. There are two types of arsenic, organic and inorganic, and when it comes to ingesting it, it's the inorganic kind that can do harm. Since rice plants absorb more of the element than other crops, the levels of inorganic arsenic simply higher than in other crops, but fertilizers and pesticides also increase the levels.
The FDA made clear in their announcement that most rices on the market are close to the recommended levels, so it's not like you should stop feeding rice cereal to your infant or even stop eating rice yourself. But they do, along with the American Academy of Pediatrics, suggest not relying solely on infant rice cereal as a starter food. Parents should be ensuring that they're giving infants, "iron fortified" cereals, but oats, barley, and multigrain cereals are just as fortified with the vitamin as rice cereals. And right now, they contain less inorganic arsenic than rice cereals.
Gerber, for example, released a statement after the FDA's announcement noting that they are already in compliance with the new limit. They wrote that parents should not be concerned about feeding their infants and toddlers their rice cereal. "We have worked closely with our trusted rice supplier and their growers as well as researchers from agricultural universities to achieve some of the lowest levels of this element in U.S. grown rice," they announced on Friday.
Susan Mayne, director of the FDA's Center for Food Safety and Applied Nutrition, said in the FDA's statement that the newly proposed limit is a "prudent and achievable step" in decreasing infant exposure to inorganic arsenic." It's always good to have reachable goals. The new limit seems to be a step in the right direction in terms of decreasing exposure for infants and pregnant women, but it's also a good reminder to mix it up a little when it comes to meals.