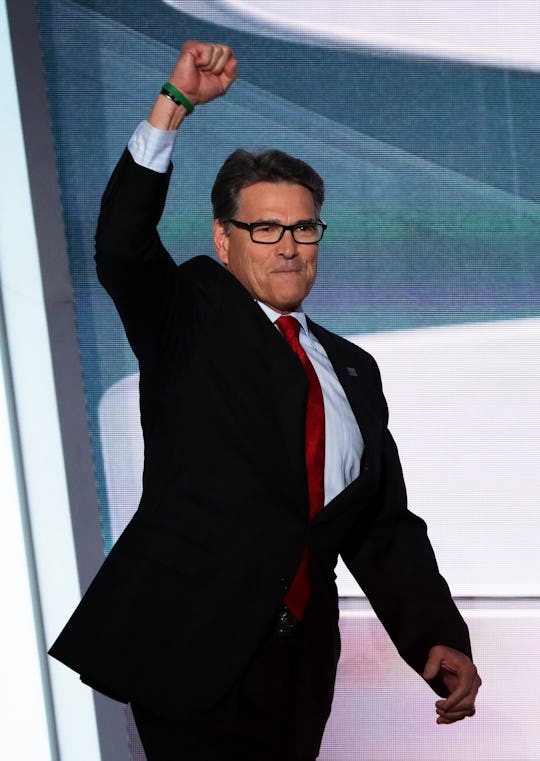 Alex Wong/Getty
Does Rick Perry Have Dance Experience? The 'Dancing With The Stars' Star Is A Newbie
I would really love to report here that Rick Perry, who is a contestant on this season of Dancing With the Stars, is secretly a marvelous dancer. I would love to be able to tell you that Rick Perry was a tap-dancing prodigy as a child, a musical theater maverick as a teen, and a ballroom champ in his later years. I'd love to tell you that Rick Perry secretly harbored a lifelong dream of becoming a dancer, and only fell into politics following an ankle injury in college, and at the behest of his disapproving father. I want to tell you that Rick Perry is actually Ren McCormack from Footloose. But unfortunately, I cannot tell you any of these things because there is no evidence that any of them are even remotely true. So, does Rick Perry have dance experience? I imagine he's taken part in a line-dance or two, being from Texas, but it doesn't look like he's got any moves other than that.
Obviously, I still hope desperately that the former Governor of Texas, who hasn't been relevant nationally since he said "Oops," in a televised debate during his failed run for president, shocks us all by busting out some spectacular moves. But I doubt it.
In a tweet, Perry said that he plans to use the platform from Dancing with the Stars to help veterans, a cause he feels strongly about. This is a rather novel approach for a prominent politician with essentially every resource available to him to promote the welfare of United States veterans. But what do I know. I know little about the real power of reality television, I just write about it.
There does seem to be some general confusion about why, exactly, Rick Perry agreed to be a contestant on the show. It makes perfect sense for, say, Ryan Lochte, who is trying to restore his public image, or for the likes of Vanilla Ice, who perhaps would like to revive his career somewhat. But Rick Perry isn't actively running for anything at the moment. His public image fate was sealed years ago. And I'm sorry, but performing an Argentine Tango for veterans makes absolutely zero sense.
Nevertheless, I look forward to see what kind of moves, Dad-like or otherwise, Perry is prepared to unveil this season.