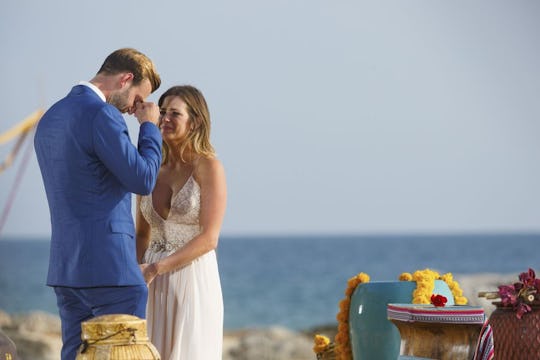 Matt Klitscher/ABC
Does Robby Still Love JoJo After 'The Bachelorette'? He Wants Her To Be Happy
That audience silence after JoJo broke up with Robby on The Bachelorette really said it all, didn't it? Anyone could see that Robby was setting himself up for a fall: all that talk of fairytale love was a major sign, not to mention his absolute certainty that JoJo would say yes. It was clear it was never going to happen for him, but it was still pretty tough to see Robby put himself out there so totally only to get sent home. So how is he feeling now? Does Robby still love JoJo?
Robby handled the whole thing pretty well in the moment. Though he was clearly crushed and probably eager to get out of there, he insisted that he just wanted JoJo to be happy. That was a line he maintained on the "After the Final Rose" special, so it doesn't look like there are many hard feelings between the two after everything. He's dealing with some difficult emotions in the wake of JoJo choosing Jordan over him but he is still certain about one thing: his feelings for JoJo. Robby told People as much: "JoJo will always hold a portion of my heart. I fell in love with her, and in falling in love, I attached strings. One of them was unconditional care for her. I want JoJo to be happy and if I'm not the guy, I understand."
It's a pretty mature stance to take, but Robby doesn't deny that he's dealing with some heartbreak too. He knows the exact number of days since the breakup (seventy, if you're curious) and does still seem a little betrayed, perhaps in part because he was so blindsided.
"Everything I said was honest and from the heart," Robby told People. "If I didn't tell JoJo I loved her, I would have been lying. The only thing I'm upset about is what was taken from me. I come from a very traditional family where marriage is a one time thing. But it's not just the marriage. It's the picking of the ring, the asking the parents for permission, giving the speech before you get down on one knee. JoJo took that from me and I can't ever get it back."
Poor Robby. Still, he stands by his statement that he wants JoJo to find happiness and he's fine with her finding it with Jordan. Robby thinks Jordan is a great guy and a sincere one, in addition to saying he respects "the hell out of that kid."
Robby stepping aside with the kind of politeness that endeared him both to fans and JoJo's family is to be expected, but perhaps he'll get a chance to recover from his heartbreak while headlining his own season of The Bachelor. Anything's possible.