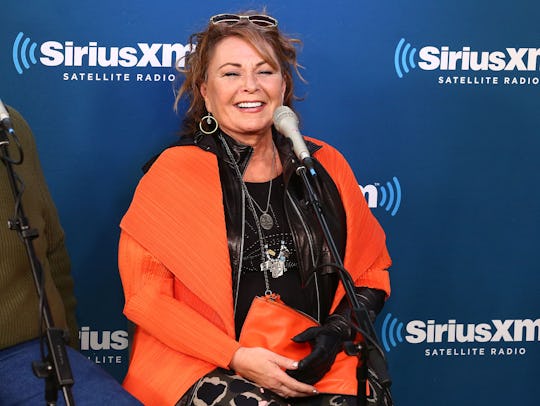 Astrid Stawiarz/Getty Images Entertainment/Getty Images
Roseanne Barr Has Made Her Feelings About Trump Very Clear
Some fans of the original Roseanne series have had mixed feelings about the show's return now that the progressive matriarch of the Conner clan has begun to espouse more conservative opinions. The fictional Roseanne Conner voted for Donald Trump in the last presidential election, but what about the real woman who plays her? Does Roseanne Barr support Trump?
Barr has vocally supported Trump both on Twitter and in interviews since before the reboot was even announced. Though Barr has apparently deleted many of her past tweets expressing her pro-Trump beliefs, The Washington Post reported that in December 2017 she tweeted, "4 those who wonder-back in the day when I was called a 'liberal' by journalists, I used to answer-'I'm not a Liberal, I'm a radical' & I still am-I voted Trump 2 shake up the status quo & the staid establishment [sic]." That seems to be as complete an explanation for her presidential choice as one is likely to get.
Considering Barr's political leanings, it wasn't a total surprise that a character originally inspired by her real life would end up mirroring those beliefs. But it still didn't sit well with a portion of the audience, despite Barr's reasons for choosing to make the character support Trump as she did.
In an interview with The New York Times, Barr discussed why she felt Roseanne-the-character would have voted for Trump and what the show was trying to accomplish by addressing that. Barr said that she wanted to explore "how and why" working class people voted for Trump, particularly when there were diverging political opinions in a single family. Though Roseanne Conner supports Trump, the rest of the Conners do not and that was an intentional part of the story. Barr said:
I just wanted to have that dialogue about families torn apart by the election and their political differences of opinion and how we handle it. I thought this was an important thing to say at this time.
Barr went on to say that she felt Roseanne backing Trump was an "accurate portrayal of these people and people like them," referring to both the working class and the parents of soldiers. Barr also didn't seem to think there was much inconsistency between her character's past progressive beliefs and Trump's more conservative ones, insisting that he was not homophobic and reiterating that job availability was a big part of the push to support him.
Barr has received a lot of media attention for tweeting about Trump conspiracy theories, most recently posting a now-deleted tweet about a theory CNN referred to as "the Storm." Apparently, this theory put forth the idea that Trump is personally shutting down child sex-trafficking rings run by high-profile Democrats. CNN reported Barr tweeting:
President Trump has freed so many children held in bondage to pimps all over this world. Hundreds each month. He has broken up trafficking rings in high places everywhere. notice that. I disagree on some things, but give him benefit of doubt-4 now [sic].
Conspiracy theories may not reflect the more even-keeled explanation provided in Barr's New York Times interview. And despite Barr's seemingly strident support for Trump, during a press event, Vox reported her as saying:
He says a lot of crazy s**t. I'm not a Trump apologist. There are a lot of things he's done and said that I don't agree with in the same way there are probably a lot of things Hillary Clinton has done and said you don't agree with.
The reboot seeks to explore what it can be like in a politically polarized family because that's a situation many Americans have found themselves in, and Roseanne has always prided itself on realism. It seems some of Barr's more controversial opinions haven't made the jump from social media to the small screen (at least not yet) but it can be difficult to forget that those opinions are out there.
Check out Romper's new video series, Romper's Doula Diaries:
Watch full episodes of Romper's Doula Diaries on Facebook Watch.