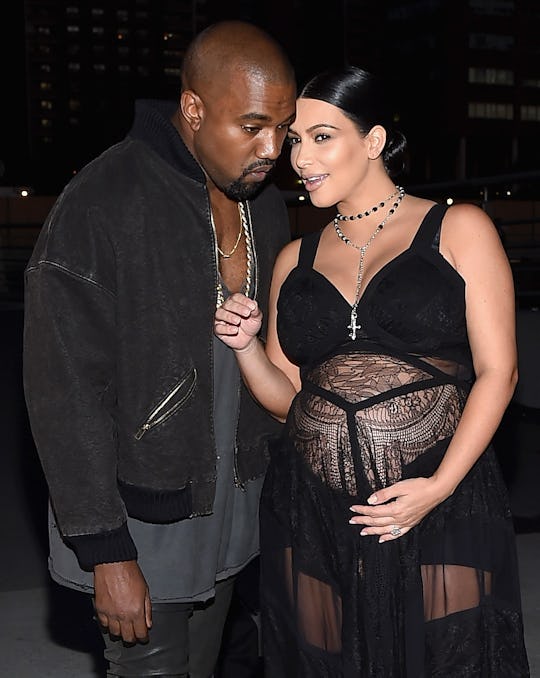 Does Saint West Have A Middle Name? Kim & Kanye Might Have Chosen A Sweet One
We have a birth date. And, now, we have a name. But we're still missing one key piece of information when it comes to Kim Kardashian and Kanye West's newborn baby son. And everyone's asking: Does Saint West have a middle name?
It depends who you consult for an answer. If you look at Kardashian's own website, where she posted Saint's birth announcement on Saturday and his name announcement on Monday, it doesn't seem that the newborn has a middle moniker (at least, not yet). But reports conflict with the announcement (which also revealed that Saint was 8 pounds, 1 ounce when born Saturday). According to Us Weekly via a source close to the family, Kardashian and West were considering choosing Kardashian's father name as Saint's middle name.
Said the source:
I know they were doing Robert for the middle name in honor of her father.
And People's source also claimed Kardashian had told people at the hospital that Saint's middle name would be Robert.
So far, however, that doesn't seem to be the case. And certainly nothing is set in stone when it comes to Kardashian and West — after all, even as of Sunday, there were rumors that the couple hadn't even chosen their son's name... after his birth. Kardashian earlier had said that she doesn't talk baby names until the eighth month of pregnancy; and North West wasn't named until a week after her birth.
So perhaps we'll find out Saint's middle name in time. After all, since when does a Kardashian reveal all the important information all at once? But, in the meantime, the Internet certainly has some ideas for the couple:
Oy. Here's hoping Kardashian and West announce the middle name soon to spare us all from the jokes.
Image: Michael Loccisano/Getty