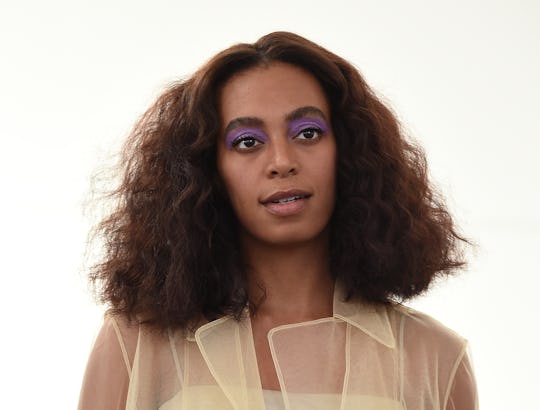 Ilya S. Savenok/Getty Images Entertainment/Getty Images
Does Solange Knowles Want More Kids?
On Sunday night Beyoncé posted some amazing photos from her "push party" (which is like a baby shower but not gals-only) on Instagram and, obviously, took the internet by storm. The world is anxiously waiting for her twins to make their first official appearance sometime next month. As fans await the newest addition to the Carter family, some are wondering if Beyoncé's sister might have a little baby fever after all the celebration. Does Solange Knowles want more kids? She and Beyoncé are raising their kids to be close.
Solange, 30, recently made headlines last week after an iconic performance at the Guggenheim Museum in New York City. While some might wonder what it's like to be Beyoncé's younger sister, and arguably in the superstar's shadow, Solange has a successful solo career all her own. Her latest album, A Seat at the Table, dropped last fall. Solange has hopped around from city to city, living for a stretch with her husband, director Alan Ferguson, and son Julez in New Orleans. In an cover-story interview back in March with ELLE Magazine, Solange also mentioned the challenges of raising Julez in Idaho when she was still a teen:
It was one of the most bittersweet moments of my life, because I was so in love with Julez, and having spent a lot of time on the road, I yearned to be in one place, to have the opportunity to really ground myself with him. But it was isolating and lonely, and so cold and dark. And it was just Julez and me most of the time. It was hard to imagine being able to progress in my career in any way.
Solange's career did progress, though, and in January of this year sister Beyoncé chatted with her for Interview Magazine, saying that she was her "biggest fan" and talking about how proud she was of her. The two have always been close, and after Blue Ivy was born the sisters told US Weekly that they were raising the cousins to be close friends.
That being said, with Blue Ivy and the soon-to-be twins as cousins, Julez, 13, has plenty of people to hang out with (his aunt and uncle are Beyoncé and Jay-Z, what more could a kid want?). Solange, who is busy raising her son, being a super cool aunt, and killing it in her career hasn't given any indication that she'd like more kids. Whether she does or not, it's a pretty safe bet that fans will be just as excited and supportive of her as they are Beyoncé. Of course, no one supports her more than her sister: in their chat for Interview, Beyoncé remembered that even when they were kids she always knew "My little sister is going to be something super special."