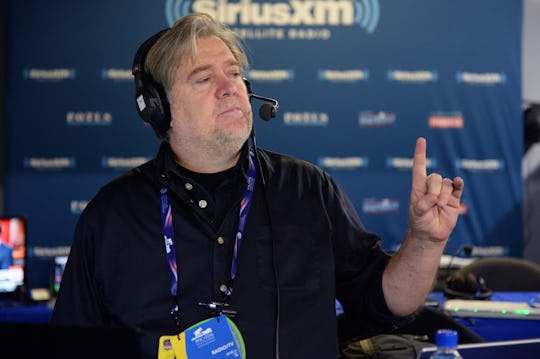 Ben Jackson/Getty Images Entertainment/Getty Images
Does Steve Bannon Have Children? He Has Some Seriously Questionable Parenting Advice
President-elect Donald Trump has begun the mammoth task of filling out various Cabinet appointees and staff positions for his forthcoming administration, including his chief strategist and senior counselor at the White House. Trump's pick is Steve Bannon, his campaign CEO and executive chairman of far-right news network Breitbart News. Recently, The Hill published a series of internal Breitbart emails from December of last year, and they included some pretty controversial parenting advice from Bannon, leading many to ask the question: does Steve Bannon have children of his own? It's a valid question, given the questionable parenting advice he had to give.
Specifically, the December 2015 email from Bannon to a Breitbart colleague talked about House Speaker Paul Ryan's plan to overhaul the mental health system in the wake of a mass shooting. Over the course of the email conversation, Bannon weighed in with his own candid thoughts on fixing the mental health system: "I've got a cure for mental health issue[s]," Bannon said. His email continued: "Spank your children more." Ummm... OK, Steve. Solid parenting advice there.
So, about Bannon's kids — Clearly, this is the misguided advice of someone who doesn't have kids, right? Shockingly, Bannon does have children: Three daughters, if you can wrap your head around that fact. The 62-year-old has been married three times, and has one daughter, Maureen Bannon, with his first wife, Cathleen Houff Jordan. Bannon had twin daughters with his second wife, Mary Louise Piccard, an investment banker.
According to a tweet from her father in 2011, Bannon's oldest daughter is a second lieutenant in the 101st Airborne Division, known as the "Screamin' Eagles." Maureen, who is approximately in her late 20s, is a graduate of West Point. By the time she was senior in 2009, Bannon was an accomplished volleyball player for the prestigious Army college team. Her athleticism has continued into her adult life. While her Facebook and Twitter profiles are private, the few public Facebook posts about her reveal that Bannon is very active with the CrossFit community, even competing in the fitness sport's regional competition, Rise of the South.
Little is known about Bannon's two youngest daughters. Born in 1995, they would be 21 years old now. Unfortunately, the most many seem to know about the two Bannon twins is that they were mentioned in a police report filed in 1996 and obtained by Politico. Piccard, Bannon's second wife, had called 911 and hung up, triggering the Santa Monica police to respond. The police report mentioned Bannon, and that he "jumped over her and the twins to grab the phone from her. Once he got the phone, he threw it across the room." At the time of the incident, they were only seven months old, and were not mentioned by name in the police report.
Bannon was arraigned two months after the incident after being charged with misdemeanor domestic violence, battery, and dissuading a witness; he pleaded not guilty. By the time the trial went to court in August that year, all three charges were dismissed when the victim failed to appear in court. Piccard and Bannon divorced five months later. Bannon did not respond to Romper's request for comment.
In light of the 1996 domestic violence police report, I'll leave you to your own conclusions about Bannon's parenting style and his advice to "spank your children more." Our next chief White House strategist, everyone.